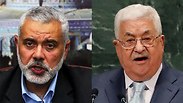 Abbas and leader of Hamas
Photo: AP, EPA
Hamas labeled on Thursday the UN General Assembly speech of Palestinian Authority President Mahmoud Abbas as a "declaration of failure," and blamed the woes of Palestinians on the 82-year-old's political mistakes.

Abbas vowed to relinquish all responsibility for the strip "if Hamas does not accept the implementation of the reconciliation agreement with Fatah."

The terror group, in an official statement, emphasized the speech is an admission of defeat regarding the intra-Palestinian reconciliation efforts, which have crumbled since being singed in December last year.

"The speech is a declaration of the failure of his policies and recognition of the end of reconciliation talks," stressed the statement.

"The situation the Palestinian people currently find themselves in is a result of mistakes that Abbas has made despite the warnings of the Palestinian factions," the statement concluded.

Defense Minister Avigdor Lieberman also criticized the Palestinian leader's speech via his official Twitter account.

"Mahmoud Abbas's speech was an inventory of all the insults and disappointments from the day he was born until now," the defense minister wrote on social media.

"Instead of taking the outstretched hand of the agreement proposed by Israel and the United States, all that Abbas is interested in is settling scores and bringing the region into a further conflict," he added.

"We will stand determined against any attempt to harm the lives of our citizens and we will exact the price from those responsible for it," Lieberman exclaimed.

During his UN speech, Abbas also rebuffed claims by Israeli leaders that he has repeatedly refused to renew peace negotiations, saying that he is "sticking to peace and the two-state solution."

"We are not against negotiations. Not once did I refuse offer to return to the negotiating table. I have agreed to every request to sit with Prime Minister Netanyahu for talks," he said.

According to Abbas, it was Netanyahu who declined an invitation by Russia to enter into negotiations.

The Palestinian president also called upon the world to recognize a state of Palestine.

"I call upon the countries of the world that have not yet recognized the state of Palestine to do so immediately. There is no escape from the eventual recognition. It will not prevent us from returning to the negotiating table, it will only encourage us to do so," he said.