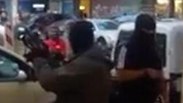 German special police forces arrested a Syrian man last week in a central street in Berlin on suspicion of planning to carry out a chemical attack on Israel, according to local media.

Details surrounding the arrest of the 21-year-old man were only published on Friday.

According to a report in the German tabloid, Bild, the Syrian citizen planned to launch a terror attack with chemical weapons and recruited people to join ISIS to carry it out.

Arrest of the Syrian suspect in Berlin

The police confirmed in the German press that he was arrested last week for his involvement in a fight.

According to the report, the suspect arrived in Germany via Libya using a fake passport.

A video published on Youtube last week shows the arrest which took place next to a coffee shop in the German capital.

The video shows a team of special police officers armed with machine guns and wearing commando masks subduing the suspect, who is lying on the ground. Police blocked the roads during the arrest.

According to German media, the Federal Intelligence Service, BND, which is the foreign intelligence agency of Germany, was tipped off by a "foreign intelligence service."

The police hacked the suspect's according to the reports. A search of his home did not lead authorities to any specific information about the attack.