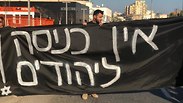 'No entry to Jews'
Photo: Front for the Liberation of South Tel Aviv
Some of the bikers participating in a cycling event in Tel Aviv on Friday were forced to stop for a short while as they were blocked by residents of south Tel Aviv protesting the government's failure to deal with the phenomenon of the proliferation of Africa migrants in their neighborhoods.

The activists from the "Front for the Liberation of South Tel Aviv" led by Shefi Paz blocked the path of cyclists taking part in the Cycle Tel Aviv event.

South TA activists block cycling event (צילום: החזית לשחרור דרום תל אביב)

The activists held signs reading "Danger, hostile Eritrean territory" and "no entry to Jews" and called out to the riders: "Good morning, dear riders, welcome to South Tel Aviv. For those who don't know, it is dangerous here. Pray that you can leave safely.

"You ride in safety and we live in fear, you ride a bike and we have been living for ten years in madness and inside a ghetto, and the State of Israel does nothing," was the message they told the bikers.

The activists clashed with some of the riders, who were forced to slow down because of the protest, some shouting at the demonstrators "Come on, this is neither the time nor the place."

Police removed the demonstrators from the road. According to them, before the race, the activists were warned to avoid disrupting the cycling route.

"The police in the area removed the rioters from the road and allowed the safe passage of the riders to continue," read a statement issued by the police after the demonstration. "The Israel Police will continue to secure the cycling routes throughout Tel Aviv and allow the tens of thousands of participants to have a safe and enjoyable ride."

The bicycle event, which is taking place in Tel Aviv for the tenth year, has about 30,000 participants. Hundreds of policemen were placed along the main traffic arteries, but could not prevent the activists running on to the road. As part of the event, many roads were blocked, including large sections of the Ayalon South route.

At around 12:00, the police announced that all the closed roads had been reopened.