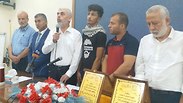 The Iran-backed Palestinian militant group Islamic Jihad announced at a news conference in Gaza on Friday that 65-year-old Ziad al-Nakhalah was chosen as its new leader.

Al-Nakhalah will head the group's secretly elected politburo, replacing longtime leader Ramadan Shalah who recently suffered a stroke.

Al-Nakhala was a founding member of the group that emerged in the 1980s. A Gaza native, he has been based in Syria and Lebanon since Israel deported him in 1988 after his second arrest.

The new leader, married and a father of six, was sentenced to life imprisonment in Israel in 1971. Fourteen years later he was released as part of the Jibril deal — and was added to the new organization by Fathi Shaqaqi, its founder.

Al-Nakhala took part in the activity of the military wing of the organization. After the assassination of Shaqaqi in Malta in 1995 (according to foreign reports, by Israel), he was elected deputy leader of the organization.

After his family's home was bombed during Operation Protective Edge, he was a major interlocutor in negotiations with Israel.

Al-Nakhalah's new deputy will be Mohammed al-Hindi from Gaza who is considered the most senior figure in the organization in recent years.

In 2014, the US State Department designated al-Nakhalah, then the movement's deputy chief, as a "Global Terrorist" for encouraging attacks against Israel.

Islamic Jihad has largely relied on Iran for funding and military expertise. It has staged numerous suicide attacks against Israeli targets.

The group maintains high-level coordination with Hamas, the larger Islamic militant group that controls Gaza.