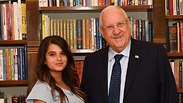 President Reuven Rivlin and Hanan Dabbah
Photo: Kobi Gideon/GPO
Hanan Dabbah, 19, resident of Deir al-Asad—an Arab town in the Galilee—is the first Arab woman to serve in the President's Residence, and the first female Muslim Arab who left home to become a National Service volunteer.

"I opened the door myself. I want more people to take that step. I want them to understand that those who give—shall receive. The state is the home of all its citizens, and as a citizen of the State of Israel I have to contribute in order to obtain all my rights," Dabbah explained.

Dabbah left home and moved to Jerusalem, where she shares an apartment with other National Service volunteers. She is the only Arab woman in the house.

"When I came into the apartment, one of the roommates asked me, 'are you an Arab?' When I replied 'yes', she asked 'how will I sleep tonight knowing there is an Arab here?' These were the first words I heard," Dabbah said.

"Since then, the girls have created a pleasant and respectful home. On Fridays I bring the Quran to the apartment because it is a sacred day for Muslims, and the girls accept that. We keep Shabbat together. During Ramadan, I break the fast with them," she elaborated.

"She made a very brave choice, but a difficult one. She is dealing with an inner conflict—the society in which she grew up in, versus the society in which she resides. Sometimes the two worlds collide. I hope more Arab girls will volunteer in the National Service so that Israeli society will open up," Eden, one of Dabbah's roommates, explained.

Going back home after serving in the President's Residence wasn't easy, as the 19-year-old volunteer faced criticism at home as well.

"It was very difficult for me at the beginning, but I faced challenges not only in Jerusalem, but also back in my hometown. I felt that I did not belong anywhere. I was criticized by my classmates and by my peers who did not understand what I was doing there. They would laugh at me and say I was going to work as a cleaning lady, " Dabbah confided.

"I understand that these reactions are a result of misunderstanding. Today I feel like I'm returning home as a hero, because, over time, my fear has transformed into strength.

"Luckily I have a supportive family. I would call my parents and tell them that I cannot go on. My father did not give up on me and told me that I would regret it if I leave. He was right," she asserted.

About the education she received at home, Dabbah says that her parents "did not talk much about the Jewish-Arab conflict, but they made us to watch the news every day. They were less concerned about the negatives. It was very important for them that we see the positive sides of Israeli society. "

Dabbah currently serves at the Content and Strategy Department of the President's Residence. According to Roni Alon, the department's director, and a Senior Advisor to President Reuven Rivlin, Dabbah "is an eloquent woman with a very clear viewpoint. She is a pioneer; her presence here has illuminated all sort of dark spots."

"For example, we wanted to adapt the training course to fit Arab youth, and when we reached a certain point and I was about to present more complex material, Dabbah told me to stop and wait, because Arab students do not necessarily know who the president is and what are his duties, " Alon clarified.

"We need to understand that there are gaps in information which later become serious breaches of trust. The president's house has Arab employees, but it's completely different when there's someone in the room who can make us see things from her perspective," she added.

Dabbah is currently a candidate of an informal education cadets' program for local government.

"I want to promote the representation of women in Arab local government. It's important for me to raise awareness and level of education among women. There are many Arabs who marry straight after high school. If that's their decision then okay, but mostly it isn't. I want women to have a voice" Dabbah concluded.

When it comes to national service, Arab opinion is divided, analysts say. In most cases, national service is done in local Arab communities, in schools and hospitals. It especially offers a chance for girls, who are sheltered in traditional Arab culture, to learn skills while still living at home.

According to Sammy Smooha, a professor of sociology at Haifa University, "National service is an entry into Israeli society, especially for girls. It offers a good option for the time after high school. Boys can work or study, but Arabs still prefer their girls to stay close to home."

Smooha says that the Arab leadership has discouraged national service because it is run by Israel's Defense Ministry. But more and more young Arabs are joining the ranks, seeing it as a way to achieve personal fulfillment and to get ahead in Israeli society.