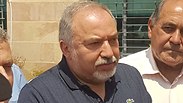 Defense Minister Lieberman
Photo: Gil Nechushtan
Defense Minister Avigdor Lieberman backed IDF Chief of Staff Gadi Eisenkot on Tuesday, saying the IDF hasn't been as ready and prepared for war as it is today since 1967.

"We're at the highest level of preparedness since the Six-Day War," Lieberman asserted in an interview with Ynet.

The defense minister rejected a report by IDF Ombudsman Maj. Gen. (res.) Yitzhak Brick, which asserted the military's preparedness has been significantly harmed.

"I read the report and spoke to Brick several times, and he makes important comments in his report. (But) I think he's greatly mistaken about one issue—the issue of the IDF's preparedness for war," Lieberman said. "I'm not just saying it because this is what I think, (I'm saying it) as someone who has been sitting on the (Security) Cabinet for decades."

He did note, however, that "it's not that we don't have problems. (The IDF) is a massive machine with hundreds of thousands of soldiers and tens of thousands of different military instruments—from planes to APCs and sniper rifles."

The IDF's state of preparedness "will never be ideal," the defense minister said. "But when I compare it throughout the years—since 1967, we haven't been as prepared as we are today."

Lieberman also hit back at Education Minister Nafatli Bennett, who often criticizes the defense minister, charging Sunday that "terror is continuing at the expense of the security of our residents thanks to Lieberman's policy of restraint and weakness."

"I suggest Minister Bennett talks about education and not security," Lieberman said. "There's a reason he's not talking about education. Bennett is willing, for just one seat (in parliament), to sacrifice both education and security. Bennett is focusing solely on politics, as he's done since arriving in politics."

He accused Bennett of already starting his election campaign, adding "the next elections will be characterized by a struggle between a zealot messianic right-wing and a stately, responsible right-wing that I represent."

He argued that "I live among my people, unlike Mr. Bennett who lives in Raanana. I live in (the settlement of) Nokdim, I know exactly what the public thinks. And the people understand and trust that we're prepared for any possible scenario in the future."

The defense minister stressed he didn't want "to conquer Gaza or give citizenship to tens of thousands of Palestinians. Instead, I want to maintain the Jewish state."

"The citizens of Israel will have to decide what they want: a binational state as Bennett wants, or a Jewish state as I propose."

Addressing Bennett's claims about the security situation on the Gaza border, Lieberman asserted that "Hamas is inflaming the area because it realizes it could lose control, and it's trying to channel the masses' rage towards Israel. Hamas understands it has failed."

"We can't reach any agreements with them," he added, noting however that "We're not looking for escalation and adventures."

"I hope the Gaza residents overthrow the Hamas regime," Lieberman continued. "As someone who follows social media, I think they understand that if they want to ensure a better future for their children, they must get rid of Hamas."

Yuval Karni contributed to this story.