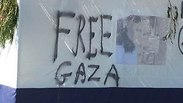 Sukkah vandalized in Manhattan
A public sukkah at the Carl Schurz Park on Manhattan's Upper East Side was vandalized on Sunday morning, with the words "Free Gaza" spray-painted three times on its walls.

The NYPD's Hate Crime Task Force launched an investigation into the incident.

"It's a slap in the face," Rabbi Ben Krasnianski, director of Chabad of the UES, told local media. "It's really very vicious. There is no room for this hatred in New York City."

A group of locals covered the hateful writing with their own graffiti, writing "Shalom" and "Sukkah of Unity" on it.

"The only response we know, and the way we've responded for the last 3,800 years, is to respond to darkness with light, to hate with love and to negativity with positivity," Rabbi Krasnianski noted.

The local Chabad House also held a street festival celebrating Jewish pride and solidarity on Monday night as another response to the hate crime, as well as to celebrate the last night of Sukkot.

Assaf Weiss, the director of Programming and Operations at the American Jewish Congress, expressed concern of the "clear anti-Semitic act that took place in New York, a center of the Jewish community in the US."

He noted the sukkah was erected by private Jewish citizens, who have no ties to the Israeli government and its actions.

"Attributing the Israeli-Palestinian conflict to all Jews is another example of modern anti-Semitism under the guise of 'political struggle,'" Weiss said.

"According to the Anti Defamation League, there was a 57 percent rise in anti-Semitic incidents across the US in 2017 alone. This horrible act of vandalism is another example of the concerning rise in anti-Semitism, and it stresses the importance of Jewish activity and advocacy by organizations such as the American Jewish Congress across the world," he added.