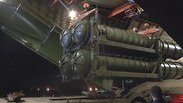 S-300 anti-craft missile system arrives in Syria
Russia releases footage of S-300 system transfer to Syria
After Russian Defense Minister Sergei Shoigu informed Russian President Putin the anti-aircraft missile system arrived in Syria, US State Department spokeswoman Heather Nauert says move will cause 'serious escalation in concerns and issue going on in Syria.'
The Russian Defense Ministry released footage Wednesday showing the transferring of the S-300 anti-aircraft missile system to Syria.
Russian Defense Minister Sergei Shoigu informed Russian President Vladimir Putin that the S-300 anti-aircraft missile system had arrived in Syria on Monday, prompting US State Department spokeswoman Heather Nauert to say it would cause "a serious escalation in concerns and issue going on in Syria."
She added that the US cannot confirm the system in fact arrived in Syria.
Footage showing S-300 system transfer to Syria (צילום: משרד ההגנה הרוסי)
"The work was finished a day ago," Shoigu said to Putin. He also added that it will take three months to train Syrian personnel to operate the system.
"The equipment transferred includes 49 unit of military gear, among them radars, operation systems and four launchers," Shoigu added.
Russia announced last week that it would supply the anti-aircraft missiles after Syrian forces responding to an Israeli airstrike in the coastal city of Latakia two weeks ago mistakenly shot down a Russian military reconnaissance plane, killing all 15 people on board.
Russia views Israel as the responsible for the downing of the plane. Moscow claims Israel has misled it about its attack zone and did not inform the Russian air force enough time in advance about the strike.
While speaking with Prime Minister Benjamin Netanyahu on a the phone, Putin said that Russia's actions "are aimed at protecting its military."
In addition, US ambassador to NATO Kay Bailey Hutchison said earlier that Russia must halt its covert development of a banned cruise missile system or the United States will seek to destroy it before it becomes operational.
The United States believes Russia is developing a ground-launched system in breach of a Cold War treaty that could allow Russia to launch a nuclear strike on Europe at short notice, but Moscow has consistently denied any such violation.
Hutchison said Washington remained committed to a diplomat solution but was prepared to consider a military strike if Russian development of the medium-range system continued.
"At that point, we would be looking at the capability to take out a (Russian) missile that could hit any of our countries," she told a news conference.
On Saturday, Shoigu said the S-300 system would be delivered to Syria, despite Israel's requests not to provide the embattled country with the system due to Israel's activity in the area.
US State Department spokeswoman Heather Nauert (צילום: U.S Department of State)
When asked whether the transfer of the S-300 system affects Israeli considerations, Defense Minister Avigdor Lieberman told Ynet that, "When it comes to security, there will be no compromises. If something jeopardizes our safety, we'll act (against it)."
"We value our relations with Russia. In my opinion, our coordination and cooperation with Moscow was good," Lieberman opined.
"We've invested a lot of efforts to avoid any direct friction with the Russian military. The Syrian army shot down the Russian plane, and bears sole responsibility for the incident.
"We lament the lose of the 15 Russian soldiers and officers, and doing our best to normalize our relations with Russia," the defense minister concluded.
Two Russian Air Force 124 Antonov military aircrafts landed on Thursday and Friday in the Russian base near Latakia, transporting equipment and logistics, which had allegedly been loaded onto the planes along the way.
Reuters contributed to this article.