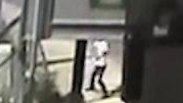 Security footage of incident
An 8-year-old Palestinian boy threw a knife at an IDF soldier at a checkpoint near Route 443 in the West Bank before fleeing the scene on Thursday afternoon.

No injuries were reported and the IDF troops searched the area to locate the child.

The report "little boy running" can be heard on the radio in the security footage of the incident.

Security footage of attack

According to the IDF assessment, the boy is a resident of the nearby village of Beit Ur al-Tahta near Ramallah.

"A Palestinian minor pulled and threw a knife at an IDF soldier at a checkpoint near Route 443. The IDF forces are searching the area to locate the suspect," said the statement released by the IDF Spokesperson's Unit shortly after the incident.

Earlier in the day, a Palestinian hurled an explosive device at Israeli soldiers during a military operation in Qalqilya.

No injuries among the Israeli troops were reported, and the security forces responded by opening fire and wounding the suspect.

During a strip search of the terrorist, several additional explosive devices and a Molotov cocktail were found strapped to his body.

Overnight Thursday, the IDF forces, Shin Bet and Border Police arrested 13 Palestinians suspected of being involvement in terror-related activities and violent riots aimed at security forces and civilian population.

In addition, the IDF found self-made weapons during a search in the Rabud village near the West Bank.