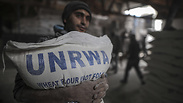 The UN agency that helps Palestinian refugees expressed concern on Friday over moves by the mayor of Jerusalem to close down its operations in the city.

Mayor Nir Barkat said on Thursday he had developed a plan to end the Jerusalem operations of the United Nations Relief and Works Agency (UNRWA), and to replace them with Israeli services.

UNRWA has faced a financial crisis since the United States in August announced it was cutting aid to the body, calling it an "irredeemably flawed operation" with an "endlessly and exponentially expanding community of entitled beneficiaries".

Barkat, on Twitter, said the US decision created an opportunity to change the current situation, which he said would otherwise "perpetuate the 'refugee problem' and encourage incitement".

UNRWA, in a statement, said it "expresses its concern about recent statements made by the mayor of Jerusalem on its operations and installations in east Jerusalem".

"UNRWA has continuously maintained its operations in east Jerusalem since 1967 with the cooperation and on the basis of a formal agreement with the State of Israel, which remains in force," it said.

It said it provided education, health, relief and social services in east Jerusalem, which Palestinians want as a capital of a future state.

Barkat said that under his plan the municipality would take over education, welfare and health services. "We provide services for all residents alike—there are no refugees in our city," he said.

The government's Central Bureau of Statistics says Jerusalem has a population of 900,000, including about 340,000 Arabs.

UNRWA was founded in 1949 after the first Arab-Israel war—the War of Independence—in the wake of the exodus of around 700,000 refugees who fled or were driven out of Israel on its founding as a state.

The nascent state of Israel absorbed Jewish refugees who were expelled or who fled from neighboring Arab countries, while other Arab states refused to grant the Palestinians citizenship.

UNRWA now looks after more than 5 million descendants of those original refugees, in Jordan, Lebanon, Syria and the Palestinian territories of the West Bank and Gaza Strip.

Israel argues that UNRWA perpetuates the Palestinian refugee problem by grossly inflating the number of bonafide refugees.

Since the agency includes descendants of Palestinian refugees from the War of Independence, it grants refugee status to Palestinians according to a criteria that is not adhered to in any other refugee question.

In the absence of a solution, the UN General Assembly has repeatedly renewed UNRWA's mandate.

Israeli Prime Minister Benjamin Netanyahu has said UNRWA should be abolished and its responsibilities taken over by the main UN refugee agency.

Some in Israel have even tougher criticism, accusing UNRWA of teaching hatred of Israel in its classrooms and tolerating or assisting Hamas terrorists in Gaza.

The US meanwhile has demanded the agency carry out reforms before it restores funding.