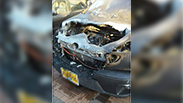 Arab family's vehicle set on fire
An Arab family whose vehicle was set on fire Friday early morning in Netanya's Kiryat Hasharon neighborhood, claims the incident was nationalistically-motivated, adding the police dismiss the information provided to them in order to detain possible perpetrators.

There were no casualties reported in the incident. However, damage was caused to the vehicle.

Arab family's vehicle set on fire

According to Yoram Elhaj, the family head and owner of the vehicle, he and his family are victims of blatant racism.

"We woke at dawn to discover our vehicle had been set on fire by racists who don't want us in the neighborhood," he vented.

"This isn't the first time we are harmed, the incident was nationalistically-motivated. People (who live here) constantly turn to us demanding we move somewhere else only because we are Arabs," Elhaj elaborated.

"In the past, our house entrance was also set on fire and a Molotov cocktail was hurled at it. Unfortunately, the police didn't detain any suspects, despite the fact I had given them names of possible perpetrators," he exclaimed.

"The police dismiss (information), accuse me I set my own vehicle on fire on purpose and send me to do a lie detector test," he explained.

"I'm afraid for my and my family's life. We receive serious threats. If something was to happen to us, the police would be held accountable," Elhaj opined.

The police issued a statement saying, "Previous complaints have been thoroughly examined and the prosecution decided to close the cases due to lack of evidence.

"The recent complained filed is yet to be examined," the statement read.

The Racism Crisis Center said that the "persecution which the Elhaj family is subjected to only because they are not Jewish is a grave example of an Institutionalized racism."

"We are operating to make the police locate the assailants who are making the family's life miserable."