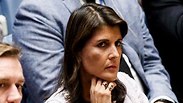 US President Donald Trump has accepted the resignation of UN Ambassador Nikki Haley, Axios news site reported on Tuesday, citing two sources familiar with the matter.
Haley would not confirm the report to Reuters when asked about it during a visit to the White House. Trump and Haley held a press conference during which the US envoy to the UN announced she would be leaving her position by the end of the year.
"Big announcement with my friend Ambassador Nikki Haley in the Oval Office," Trump tweeted.
Trump said that Haley is a "very special" person, adding that she told him six months ago that she might want to take some time off. Trump said that together, they had "solved a lot of problems."
Speaking to reporters in the Oval Office, he praised her for having done an incredible job and said he hoped she could come back to the administration serving in another position.
"We're all happy for you in one way, but we hate to lose (you). ... Hopefully, you'll be coming back at some point. Maybe a different capacity. You can have your pick," Trump said.
It's the latest shake-up in the turbulent Trump administration just weeks before the November midterm election.
No reason for the resignation was immediately provided.
Haley, 46, was appointed to the UN post in November 2016 and last month coordinated Trump's second trip to the United Nations, including his first time chairing the UN Security Council.
Haley and Trump at press conference (צילום: רויטרס)
Before she was named by Trump to her UN post, Haley was governor of South Carolina, the first woman to hold the post. She was reelected in 2014.
Last month Haley wrote an op-ed in The Washington Post discussing her policy disagreements but also her pride in working for Trump. It came in response to an anonymous essay in The New York Times by a senior administration official that alleged there to be a secret "resistance" effort from the right in Trump's administration and that there were internal discussions of invoking the 25th amendment to remove Trump from office.
"I proudly serve in this administration, and I enthusiastically support most of its decisions and the direction it is taking the country," Haley wrote. "But I don't agree with the president on everything."
Echoing previous statements from Trump, Haley said the United States under his presidency is now respected around the world.
"Now the United States is respected. Countries may not like what we do, but they respect what we do. They know that if we say we're going to do something, we follow it through," she said.
Earlier this year, Haley told Reuters that, "Every day I feel like I put body armor on," to protect US interests at the United Nations.
As governor, she developed a national reputation as a racial conciliator who led the charge to bring down the Confederate flag at the Statehouse and guided South Carolina through one of its darkest moments, the massacre at a black church.
Being the daughter of Indian immigrants, Haley is seen as a rising star in the Republican Party and a possible candidate for the 2020 presidential elections.
South Carolina Republican Sen. Lindsey Graham, a close Trump ally tweeted that Haley "has a very bright future and will be a key player in both the future of the Republican Party and our nation as a whole for years to come."
However, she said she would not be running in 2020 and would campaign for Trump.
The top diplomat is considered an enthusiastic supporter of Israel in at the UN, and has shared Trump's criticism of the UN institutions.
The United States announced in June it was leaving the United Nations' Human Rights Council, with Haley calling it "an organization that is not worthy of its name."
Prime Minister Benjamin Netanyahu thanked Haley for her support of the Israel at the UN and said she had fought hypocrisy at the organization.
"I would like to thank Ambassador Nikki Haley, who led the uncompromising struggle against hypocrisy at the UN, and on behalf of the truth and justice of our country," Netanyahu tweeted.
Israel's ambassador to the UN, Danny Danon, echoed Netanyahu's remarks, applauding her stance towards the Jewish State.
"Thank you, Nikki Haley! Thank you for representing the values common to Israel and the United States. Thank you for your support, which led to a change in Israel's status in the UN. Thank you for your close friendship. You will always be a true friend to the State of Israel," Danon said.
Trump said he would name her successor within two or three weeks.