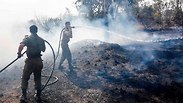 KKL: Incendiary balloons caused environmental disaster
According to data provided by the organization, 11,920 dunams of farmland and woodland were set on fire by incendiary kites and balloons flown from Gaza into Israel over the last six months; 'It's a severe blow to nature,' says one of the firefighter in the Gaza border communities.
Over the past six months 11,920 dunams (some 3,000 acres) of farmland and woodland have been burned in fires caused by incendiary kites and balloons flown from Gaza into Israel, according to the KKL.

Forests in the Gaza border area saw 1,053 fires that consumed countless of trees. The majority of the conflagrations erupted in the Be'eri forest, which suffered 452 fires, while 353 fires broke out in the Kissufim Forest.

The Shokeda Forest saw 75 fires, while 31 fires erupted in the Hannun Forest and 29 fires scorched the HaBesor Stream Forest.

Many trees were significantly damaged and their rehabilitation is expected to take years. Furthermore, hundreds of wild animals perished in the fires.

Rampant fire in Kibbutz Be'eri sparked by incendiary balloon (צילום: צוות כיבוי אש קיבוץ בארי)

The data was provided by KKL's foresters in the western Negev area, who have been constantly on call over the past six months, arriving at the scene the minute they receive a report about a fire breaking out.

"The nature in the Gaza border communities has been severely damaged," one of the firefighters in the area said.

"In my opinion, when rain comes, we'll be able to know what can be renewed. This is a severe blow to nature. Where once people set under trees, everything is scorched now," he lamented.

Three fires broke out today across the communities near the Gaza border. One of the fires was caused amid incendiary balloon flown from Gaza into Kibbutz Gevim, with the flames spreading near houses and agricultural equipment.

Firefighters gained control over the blaze. Neither casualties nor damage were reported.

In addition, an incendiary balloon landed in a yard of a building in the southern town of Kiryat Malakhi.

Sappers were called to the scene and neutralized the flammable object.