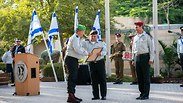 Eisenkot awarding certificate of appreciation to the Gaza Division
Photo: IDF Spokesperson's Unit
IDF Chief of Staff Lt. Gen. Gadi Eisenkot awarded the Chief of Staff's Medal of Appreciation to the Gaza Division on Wednesday for its activities on the Gaza border and for "its contribution to the IDF and the security of the State of Israel."

"The Gaza Division is dealing with a wide array of threats, against which it stands strong while demonstrating determination, creativity and wisdom. The division works day and night to protect the residents of the south," the IDF Spokesperson's Office said ahead of the ceremony.




At the ceremony itself, Eisenkot addressed the troops. "Over the past two years, the division has operated against Hamas's terrorist tunnels while combining technological, intelligence and operational capabilities, which led to the discovery of approximately 15 tunnels. At the same time, the division is leading the construction of the underground barrier along the Gaza Strip," he said.

"For the past seven months, the division also operated on a daily basis to prevent a mass border breach and prevent serious terrorist attacks."

"The Gaza Division is a symbol of operational excellence at all levels. The division's units and its commanders are conducting a multifaceted campaign against violent riots, in a balanced and professional manner," the IDF chief continued.

"All military forces stationed in the Gaza region continue to demonstrate their preparedness for various scenarios by operating combat soldiers in the field, providing assistance to the ground forces, and gathering intelligence," he went to say.

"Over the past six months, you have dealt with terror attacks, attempts to violate our sovereignty and various terror activities under the guise of civil disturbances involving women, children and adults. You have shown your professional, firm, and ethical bearing in a complex reality," Eisenkot added.

"The campaign to locate Hamas's terrorist tunnels was done through team work. The operational, technological, and intelligence capabilities of our forces have led to remarkable operational achievements, on a local and global scale alike," he boasted.

"Unfortunately, this activity comes with a price. There has been one death since Operation Protective Edge—Staff Sergeant Aviv Levi— and there are wounded civilians and wounded soldiers. We, as the IDF, cannot get tired, we don't have that privilege, but we continue to act out of a long-standing commitment to Israel's security. The combination of security and settlement is the secret of IDF strength, even before the establishment of the state, and ever since," Eisenkot concluded.

Gaza Division Commander Brig. Gen. Yehuda Fuchs will soon be replaced by Brig. Gen. Eliezer Toledano, who served as commander of the Paratroopers Brigade and was also the military secretary to the Prime Minister Benjamin Netanyahu.