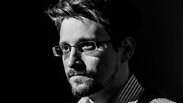 Computer analyst Edward Snowden, one of the most wanted and controversial people in the world, will be giving a speech at an event in Israel next month via a secure video link.

Snowden, a former NSA contractor, lives in Moscow under an asylum deal after he leaked classified information in 2013 that triggered an international furor over the reach of US spy operations.

Since escaping the US with some 1.7 classified documents and finding asylum in Russia, Snowden has been giving lectures and interviews via a video link in several places around the world.




He will speak at a private event to a small number of senior officials from several fields in the Israeli economy, as well as to former Mossad director Ram Ben-Barak, and will answer their questions.

The event, which will take place on November 6, is organized by OH! Orenstein Hoshen PR & Strategy. Hadar Orenstein and Itamar Hoshen, who head the company, told Ynet about the decision to invite Snowden to speak at the event.

"These days, when we're gravely concerned by questions of privacy and the security of our personal information, there aren't many public discussions that are more worthy than this, nor speakers who paid such a high price for the position they have taken," they said in a statement.

"We have no intention of expressing support or any position concerning (Snowden's) actions. The audience will hear what he has to say, could ask difficult questions, and consider their own views on the matter."

Snowden has shone a light on widespread surveillance by the NSA and its British counterpart GCHQ, the alleged extent of which has upset many US allies and fuelled a heated debate about the balance between privacy and security.

In December 2013, The Guardian and The New York Times reported that in January 2009 GCHQ and the NSA had targeted an email address listed as belonging to Israeli prime minister at the time, Ehud Olmert. Spies also monitored email traffic between then-defense minister Ehud Barak and his chief of staff, Yoni Koren, the newspapers said.

According to a report from the German news website Der Spiegel, and similar reports from the Times and The Guardian, both agencies also targeted various Israel Foreign Ministry offices across the world.

Apparently, the two agencies conducted a large scale operation under the code name "Broadoak", in which they used satellite connections to intercept SMS and email communications between Israeli officials.

The monitoring was conducted from one of GHCQ's largest stations, that was constructed and operated with the help of American funding and is located in the town of Bude, in Cornwall, on the southwest coast of England.

Snowden faces espionage charges in the United States and the political asylum he received from Russia is expected to expire in 2020. He is already looking for a new country that would agree to provide him political asylum.

Reuters contributed to this story.