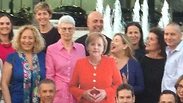 Protest in Tel Aviv
Photo: Tsachi Sadeh
Israeli tech women protest men-only meeting with Merkel
Women working in Israeli high-tech companies pose around a cardboard cutout of German Chancellor Merkel for an alternative photo to one released by the Foreign Ministry of Merkel at round table discussion in Jerusalem to which only men were invited.
Women working in high-tech companies posed around a cardboard cutout of German Chancellor Angela Merkel on Wednesday to protest against a meeting she held with an all-male group of entrepreneurs in Israel last week.

Merkel noted at that session that Israel's start-up industry appeared to be "very male-dominated," adding: "It would be better if next time, there was a woman among all those hopeful pioneers of the future."

The Foreign Ministry subsequently apologized for the all-male attendance at the meeting, where Merkel was the only woman in a group photograph, and said Israel has many female high-tech entrepreneurs.

That was also the message the protesters said they wanted to get across at Rabin Square, where some 100 women posed for photographers and TV cameras with a few placards, one of which read: "Tel Aviv is with Merkel."

"It's not the first time that it's happening: you can see summits, events, meetings only with men around the table," said Merav Oren, one of the protesters and the founder of WMN, a co-working space for women entrepreneurs in Tel Aviv.

צילום : ירדן ביידר

"If we don't raise the awareness like we are doing now it can happen again because, you know, the men were sitting there, nobody noticed there is not a woman around them, there is no diversity in the room."

Appearing in the "alternative photo" taken at Rabin Square were some of Israel's prominent female high-tech executives, including Facebook Israel CEO Adi Soffer Teeni and high-tech entrepreneur Dr. Orna Berry.

Efrat Fenigson, the chief experience officer at Airobotics and one of the organizers of the protest, said that like everyone else, she too was angry when she saw the male-dominated photo. She and her friends at Supersona and other organizations have decided to "take the lemon and make lemonade."

"I'm one woman among 10 men in management," she said. "There's no doubt it's much harder for women to get ahead in this field. Our goal with this photo is primarily to create awareness of the fact women should be put at the front, as well as to make women themselves realize they need to help one another, and of course to make the government and the state realize they need to lead this."

Similar events coordinated by Israeli women took place over the past 24 hours in Berlin, New York, Toronto, London and Silicon Valley. The organizers hope their protest is covered by the foreign media, leading to Merkel herself becoming aware of it in an effort to promote another meeting with the German chancellor—but this time with the leading women of Israeli high-tech.

The Foreign Ministry said in response to the protest that "the round table was part of a series of events organized in cooperation with a number of bodies—including the Israel Export Institute, the Israel Innovation Authority, the Foreign Ministry and the Prime Minister's Office. The companies that were invited—leading companies in innovation from Israel and Germany who have business activity in Israel and Germany—are the ones that selected and sent their representatives.

"During the preparations, the issue of the lack of women among the representatives did not come to light. We regret this and are committed to work to the best of our abilities along with all partners to avoid such cases in the future and ensure appropriate representation of women. We will also note that both in the (innovation) exhibition and in additional events before and after the event in question, both business men and women took part."

Sagi Cohen contributed to this story.