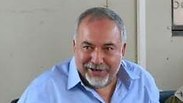 Minister Lieberman
Photo: IDF Spokesman's Office
Defense Minister Avigdor Lieberman responded to a complaint submitted against him by MK Hanin Zoabi to the Knesset's Ethics Committee by stating simply that "the crux of the matter is that she's a terrorist."

In early June, Lieberman posted a photo of the Arab MK on his Twitter account with the headline "Kicking Zoabi out of the Knesset."

The tweet's text read: "The terrorist Hanin Zoabi is in the Knesset and promoting terrorism against IDF soldiers and citizens of the State of Israel just because members of Knesset from the Zionist Union, Yesh Atid and the Haredi parties are refusing to back a proposal by MK Oded Forer to oust her by law."

Lieberman called on the public to click the attached link and pressure members of Knesset to back the proposal.

Zoabi turned to the chairman of the Knesset's Ethics Committee, Shas MK Yitzhak Vaknin, saying Lieberman's comments were broadly reported in the media and asking the committee "to discuss the matter and punish severely, since this is a minister—and not just any minister, the defense minister—in order to send a clear and unequivocal message about the dignity and immunity of an MK."

"Needless to say that in light of the calls to 'kill every terrorist,' the happy trigger finger, and the sentiments against Arab members of Knesset in general and myself in particular, Minister Lieberman has exposed me to real danger with his words," Zoabi added.

In light of the complaint, the committee turned to Lieberman for a response, allowing him to deliver it in person in front of the committee if he wishes to.

Lieberman refused to apologize to Zoabi and expressed puzzlement at the fact the committee is even having a discussion on the matter rather than reject it out of hand.