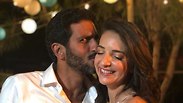 Halevi and Aharish on their wedding day
Hazan: Lucy Aharish 'seduced a Jewish man to hurt the state'
'I don't blame Lucy Aharish for seducing the soul of a Jewish man in order to hurt our state and prevent more Jewish offspring from continuing the Jewish lineage,' the Likud MK writes on the Arab journalist's marriage to actor Tsahi Halevi, adding: 'No more assimilation.'
Likud MK Oren Hazan caused outrage on Wednesday when he slammed Israeli-Arab journalist Lucy Aharish and actor Tsahi Halevi after the two got married.

"I don't blame Lucy Aharish for seducing the soul of a Jewish man in order to hurt our state and prevent more Jewish offspring from continuing the Jewish lineage. On the contrary, she's welcomed to convert to Judaism," Hazan wrote on Twitter and Facebook.

"I do blame Tsahi the IslamLevi, who took (TV show) Fauda one step too far. Bro, snap out of it. Lucy, it's not personal, but know that Tsahi is my brother and the people of Israel are my people. No more assimilation," the Likud MK added.

His words raised ire among members of the opposition who harshly criticized him.

"I'll say this gently: The brave and good-hearted Lucy Aharish understands what being a Jew means better than the person who tweeted that sickening and racist post I'm forced to share here—in the hopes everyone sees who we're dealing with and what filth Netanyahu has brought into our homes," MK Stav Shaffir (Zionist Union) wrote on social media.

MK Shelly Yachimovich, also of Zionist Union, responded to Hazan using a metaphor from the world of Harry Potter. "There's nothing new under the sun. The Death Eaters, as you may remember, believed only pure-bloods were allowed to exist, and anyone who married a Muggle was considered a blood traitor. And I'm sorry for using too subtle a metaphor," she wrote.

MK Yoel Hasson chimed in as well, saying, "The racist, benighted and embarrassing face we cannot look at anymore. Just imagine what would happen if the Likud Party got 30 seats and more again."

Halevi and Aharish got married on Wednesday evening in a surprise ceremony after four years of a relationship that was kept out of the limelight for fear of harassment.