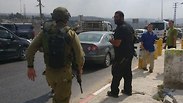 An IDF reservist soldier and a civilian woman were hurt in a stabbing terror attack outside the Samaria Territorial Brigade base in the West Bank on Thursday afternoon.
The terrorist was able to escape towards Huwara, and security forces were in pursuit, blocking all entrances to Nablus.
A terrorist stabbed the reservist, 32, who was standing at a bus stop. Soldiers and passersby then tried unsuccessfully to overcome the terrorist.
Soldiers who were on the scene opened fire toward the fleeing terrorist, but he was able to escape. The soldiers' fire hit several nearby vehicles, and shrapnel from the shooting lightly wounded a woman from Elon Moreh.
Both the reservist and the woman were taken to the Beilinson Hospital at the Rabin Medical Center in Petrah Tikva. The soldier was in light-to-moderate condition, suffering from stab wounds to the head and upper body. The woman was in light condition, suffering injuries to her lower back.