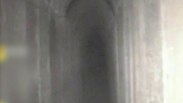 Hamas tunnel
Photo: IDF Spokesperson's Unit
Watch: A look inside neutralized Hamas terror tunnel
IDF Spokesperson's Unit releases footage of Combat Engineering Corps's search for attack tunnels near Gaza border region as well as demolition of a cross-border Hamas tunnel in Khan Younis on Thursday; Lt. Col. R., who participated in operation: 'At no time did it pose a threat or danger.'
The IDF Spokesperson's Unit released footage Thursday of the engineering unit's search for terrorist tunnels in the Gaza border area, as well as a video showing the demolition of cross-border Hamas tunnel in Khan Younis, area in the central Gaza Strip.

The first video released by the IDF shows the Combat Engineering Corps's search for terrorist tunnels in the Gaza border communities. Among others, the footage shows the forces using heavy engineering tools to drill the surrounding land, as well as various methods to verify the existence of an underground tunnel.

In addition, another video provides an inside look of the Hamas terror tunnel that was neutralized on Thursday.

"'At no time did it pose a threat or danger to the residents of the communities surrounding Gaza. The route of the tunnel was neutralized in an engineering operation of several units, under the direction of the Gaza Division," said Lt. Col. R., the commander of an engineering unit who participated in the demolition of the tunnel.

IDF neutralizes cross-border Hamas tunnel in Khan Younis (צילום: דובר צה"ל)

"In the last few months we have been engaged in a wide-ranging campaign against Hamas's offensive tunnels," Lt. Col. R went on to say.

"The IDF operates groundbreaking, stationary and mobile technologies that know how to operate in different types of land. We are prepared for carious scenarios. We will continue to use the capabilities and resources we have to locate and thwart the tunnel threat," he concluded.

Prime Minister Benjamin Netanyahu addressed Thursday the demolition of the tunnel and said Israel "systematically dismantles Hamas's tunnel capability." Since the army eventually naturalizes these tunnels, "Hamas must understand that they shouldn't try us," he

added.

The IDF neutralized a Hamas terror tunnel on Thursday that infiltrated 200 meters into Israel.

This is the 15th tunnel the IDF has destroyed since October 2017, and it is a part of a complex network of Hamas attack tunnels. The kilometer-long tunnel, which was divided into several branches, had electricity and was connected to communication networks.

The IDF said the new tunnel was unique in "the development of construction methods, the use of different materials, (and) it has several bends and turns and links to the network of fighting tunnels." The new construction methods are believed to be part of Hamas efforts to avoid Israeli detection of the tunnels.