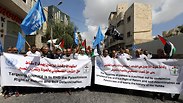 Palestinians refugees
Photo: Palestinians refugees
A government study shared with Washington argues that Palestinian refugees number in the thousands, not the millions designated by a UN aid agency whose funding has been slashed by the Trump administration, an Israeli official said on Friday.
The fate of Palestinians displaced during the 1948 War of Independence and their descendants has long clouded US-sponsored peace efforts. Frustration over the issue is among factors fuelling often violent weekly protests at the Gaza border over the last half year.
Palestinians demand a refugee right of return to Israel, which rejects this, insisting they settle where they are or in a future Palestinian state. Negotiations on founding that state in the West Bank and Gaza stalled in 2014.
UNRWA was founded in 1949 in the wake of the exodus of around 700,000 refugees who fled or were driven out of Israel on its founding as a state.
As a result, UNRWA now looks after more than 5 million descendants of those original refugees, in Jordan, Lebanon, Syria and the Palestinian territories of the West Bank and Gaza Strip.
The nascent state of Israel absorbed Jewish refugees who were expelled or who fled from neighboring Arab countries, while other Arab states refused to grant the Palestinians citizenship.
Israel argues that UNRWA perpetuates the Palestinian refugee problem by grossly inflating the number of bonafide refugees.
Since the agency includes descendants of Palestinian refugees from the War of Independence, it grants refugee status to Palestinians according to a criteria that is not adhered to in any other refugee question.
UNRWA has become the subject of significant scrutiny since President Trump entered the White House.
Israel says only survivors among the original 1948 refugees should be considered refugees today—an idea fiercely opposed by the Palestinian leadership, which hews to the UNRWA numbers.
The Israeli study has not been published and there was no immediate reaction from Palestinian officials or from UNRWA on its numbers.
Tzipi Hotovely, Israel's deputy foreign minister, described 2018 as a "turning-point" for UNRWA and its definition of Palestinian refugees, "in that the United States has said 'no more' and the State of Israel is closing rank with this policy".
Speaking to Tel Aviv radio station 102 FM, Hotovely said researchers in her ministry and in the National Security Council had compiled a report determining that there were "a limited number of thousands" of Palestinian refugees today.
"It does not come close to millions," she said, without elaborating on how Israel's researchers had calculated those lower figures.
Asked to respond to Hotovely's remarks, a US official who requested anonymity told Reuters: "While the United States believes the UNRWA model is not appropriate or sustainable, we will not elaborate further at this time."
In August, US Ambassador to the United Nations, Nikki Haley, said UNRWA should "change the number of refugees to an accurate account" in return for a restoration of US funding for the agency. US National Security Adviser John Bolton lambasted UNRWA's aid program as "the only one in history based on the assumption that refugee status is hereditary".
In an open letter issued the following month, UNRWA Commissioner-General Pierre Krahenbuhl said "the protracted nature of the Palestinian refugee crisis" was not unique. He said the children and grandchildren of long-displaced refugees in Afghanistan, Sudan, Somalia, Congo and elsewhere are also recognized as refugees and assisted by the United Nations.