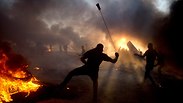 Rioting on the Gaza border
Photo: AP
Lieberman: Gaza fuel supply won't resume until rioting stops
The defense minister ordered the halt of gas and fuel supply to the Gaza Strip after terrorists blew up a hole in the border fence on Friday and infiltrated Israel; Haniyeh: 'Our marches are not for diesel fuel or dollars, and it is our right to lift the siege and live in dignity.'
Defense Minister Avigdor Lieberman warned on Saturday that as long as the violent rioting continues on the Gaza border, there will be no supply of fuel and gas to the strip.

In Gaza, thousands attended the funerals of the seven Palestinian killed during Friday's violent clashes along the border.

Some 15,000 Palestinians were rioting in several spots along the Gaza border on Friday. During the clashes, a group of terrorists planted an explosive on the border fence, which went off and opened a hole that allowed 20 terrorists to infiltrate Israel.

IDF snipers opened fire meant to deter the terrorists. Most of them returned into the strip, but three continued advancing on an IDF position. In response, the soldiers shot at them, killing all three. None of the soldiers were hurt in the incident.

The Palestinians were able to grab the bodies and flee back into the strip with them.

The unusual incident led Defense Minister Lieberman to order a halt to the transfer of fuels into the Gaza Strip.

Speaking at one of the funerals, Hamas leader Ismail Haniyeh said that "the Palestinian people's willpower and determination in the Marches of Return have led to a victory over the crimes of the occupation."

He went on to say that "the blood of the shahids (martyrs) brings us closer to victory over the Zionist enemy. Our marches are not for diesel fuel or dollars, and it is our right to lift the siege and live in dignity."

"We won't be swayed by half-solutions and partial steps. The marches won't end unless there is a complete lifting of the siege over Gaza," Haniyeh added. "We appreciate any effort to lift the siege, whether it's by an Arab element or an international one."

With this Hamas continues its line of publicly supporting efforts to reach an arrangement for a ceasefire in Gaza, while at the same time continuing the escalation on the ground.

The commander of Hamas's security forces in Gaza, Tawfiq Abu Naim, attended another funeral for his nephew, Ahmad Abu Naim, who was killed in Friday's clashes and was likely part of the group that crossed the border into Israel.

Meanwhile, the Palestinians released footage showing incendiary balloons flown from the Gaza Strip into Israel during Friday's clashes.

One balloon—which was said to be the biggest launched into Israel so far—had the caption: "If we are to suffer, we will not suffer alone."