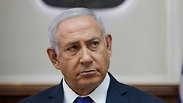 Prime Minister Benjamin Netanyahu
Photo: AP
PM promises to hit Hamas with 'very powerful blows' if violence continues
Netanyahu, reiterating statements made earlier by Defense Minister Lieberman, warns Israeli military is edging closer to 'a different kind of activity' in Gaza Strip and says 'if Hamas has any sense' they would cease all hostilities immediately; adds new draft law is 'a good and balanced law' that 'needs to pass.'
Prime Minister Benjamin Netanyahu warned Hamas on Sunday, saying the IDF is edging closer to a large scale military activity in the Gaza Strip and if the ongoing border violence continues, Israel will strike the terror group with "very powerful blows."

Netanyahu spoke at the start of the weekly Cabinet meeting and emphasized the time has come to resort to "a different kind of activity" to resolve the situation in the strip, adding that "if Hamas has any sense, they will stop the violence immediately.

"Hamas has apparently not internalized the message—if they do not stop the violent attacks against us, they will be stopped in a different way and it will be very, very painful," stressed the prime minister.

Netanyahu's remarks came just minutes after Defense Minister Avigdor Lieberman's statement, made in a Ynet interview, underlining that Israel has reached the point where it is necessary to deal the terror group "the hardest blow."

"We have turned every stone and we have passed the point of no return… We have reached the stage where we must strike the hardest blow imaginable on Hamas," Lieberman exclaimed.

Earlier, at a meeting of Likud ministers, Netanyahu addressed the new IDF draft law, which could potentially dismantle the coalition and trigger early elections.

"This is a good and balanced law. It balances between the needs of the military, which prepared it, and, of course, the needs of the ultra-Orthodox public. This law needs to pass. The time has come to put it behind us," he stated.

"This is my position. This also needs to be the position of the government, for the good of the country, of the ultra-Orthodox public, and for relations between the ultra-Orthodox and the secular. Therefore, I call on the Council of Torah Sages, which is convening today, to make the right decision. This law is good for Israel," the prime minister concluded.