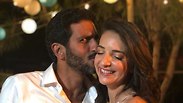 An Israeli wedding between an Arab and a Jew
Op-ed: The marriage between Lucy Aharish and Tsahi Halevi, an Arab-Israeli Muslim and a Jew, is a joyous occasion. The state may not recognize interfaith marriages, but the liberal public does, and we must hope that liberals in Israel remain strong to protect mixed families from facing the challenges lying ahead.
The marriage of Lucy Aharish and Tsahi Halevi is a joyous occasion, and the couple deserve blessings. Aharish is a prominent media personality. She is pleasant, intelligent, and her cultural style is the opposite of the vulgar style often heard in public discourse.

Aharish is a Muslim-Israeli who married an Israeli Jew. Unfortunately, the state does not regulate such marriages. It is not Aharish's fault that Israel does regulate the right to marriage in a series of cases, including interfaith marriages. But at least, in this matter, liberal ideas can be expressed which recognize a private wedding ceremony, such as the wedding of Aharish and Halevi, even though the state's recognition of this marriage is limited and partial at best.

In addition to the fact that Israel violates the human rights of interfaith spouses by refraining from regulating such marriage, a number of questions arise that deserve our attention.

The traditional Jewish approach opposed intermarriage and responded by rejecting these couples. The Jewish religion has an exclusive nature, which cannot tolerate members of another religion.

From here we wish to conclude that the Jewish nation also denies the possibility of including members of other religions in its midst. Those who wish to join the Jewish people can do so only through proper religious channel (i.e., it is impossible to join our people through secular-civilian channels). This approach may have been justified in the past. Today I believe that it has no place, certainly not in the State of Israel.

It is worth recognizing that Judaism is not only a religion or nationality, but also a rich culture based on language and literature thousands of years old. There is no reason to prevent non-Jews from belonging to Judaism and taking part in it.

The Germans were talking about "Weimar culture," the circle of German arts and sciences. The French are currently engaged in their Francophone culture, which includes all those who speak the French language, even members of different nationalities who practice various religions.

In my opinion, the State of Israel and the Jewish people in general have an interest in accepting new members without examining the Kippahs of those aspiring members—whether they are secular Jews, practice another religion, or belong to a different culture.

Not to mention the question, which has yet to be answered, of whether an Israeli nation has been established in Israel.

Back to the matter at hand: there is no need to elaborate on the issue of nationality, since I believe it is impossible to dispute the fact that Israel has a flourishing Jewish-Israeli culture in literature, cinema, theater, science and the media. It is only fitting that those who wish to join our culture will be able to do so.

Aharish is part of this culture. She even contributes to it, despite the fact that she belongs to a different one. Her right to marry should be recognized, without having to convert or practice the laws of a religion she does not believe in.

A warning was heard about the problems facing the children of interfaith spouses. The role of the state is to ensure that such problems are avoided, and that a child born to a mixed couple will not be harmed because his parents do not practice the same religion.

But even if the state does not act, we must hope that the liberal public in Israel remains strong enough to protect these families from facing such problems.

Finally, the wedding of Aharish and Halevi, like many other examples, shows the fact that Israel does not uphold the right to marry—and lets the religious-Orthodox stream have the final say in this matter—does not achieve its goal.

The state does not prevent marriages between members of different religions, just as it does not prevent spouses, even when they are both Jews, from marrying outside the jurisdiction of the rabbinate.