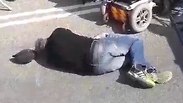 Disabled protester pushed to the floor
Photo: Bikoret Bona
A police officer pushed a protester from the "Disabled Panthers" group to the ground during a demonstration against the low disability benefits rate on Monday, resulting in the protester's hospitalization.

The demonstration, during which protesters blocked the main car entrance gate to the Knesset, did not receive police authorization.

After blocking the entrance, the protesters tried to break through the gate. During the confrontation that ensued, a police officer shoved one of the protesters.

Disabled protester pushed to the floor by police. (צילום: ביקורת בונה)

After the demonstration at the Knesset, which began its winter session on Monday, the protesters went on to block a major junction in Jerusalem, causing traffic disruptions in the area. They later blocked the light rail tracks in the capital.

The Israel Police claimed the video of the police officer pushing the protester "is edited and tendentious. Unlike stated, the protester was not sitting in a wheelchair or assisted by crutches, and was trying to break through the fence while using violence and swearing, calling police officers Nazis, and so on."

"As you can see in the video, the suspect punched a police officer in his upper body, and grabbed the arm of another officer, forcing them to push him back," the police statement said.

They further added that, "the police will always allow anyone and everyone to realize their right to the freedom of speech and protest, but will act against any illegal violence towards police officers."

A Ynet examination of the video found it was not edited, refuting the police's statement.

On Tuesday, the protesters declared their intention to visit the grave of fellow disabled protester Yaakov Volk, 60, who set himself on fire in Jerusalem last week and passed away on Wednesday.

The activists said Volk had ended his life due to financial issues. They accused the police and the hospital of not disclosing the funeral details to prevent them from attending.

But Volk's relatives claim his death had nothing to do with the protests.

This year, for the first time in 16 years, disability benefits were raised to NIS 3,270 a month and is expected to grow further at a later stage to NIS 3,700. However, this sum is still significantly lower than what the protesters are demanding, which is benefits fixed to the minimum wage, that currently stands on NIS 5,300.