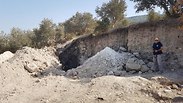 The robbery debris at Horvat Devora.
Photo: IAA Unit for the Prevention of Antiquities Robbery
Two antique robbers damaged the Lower Galilee biblical site of Dovrat with a backhoe loader, and were caught in the act by the Israel Antiquities Authority's Unit for the Prevention of Antiquities Robbery last week.

The 2,000-year-old excavation site of Horvat Devora is located near modern day Afula. It is identified as the biblical city of Dovrat and the Roman-era Jewish village of Davrita, located in the Tzipori region—a major hub for Jewish activity in that period. Finds in the site include water pits, graves and the infrastructure of the ancient settlement.

A few days prior to that act, Nature and Parks Authority inspectors detected damages to the site, and it was put under surveillance.

Over the weekend that followed, the suspects returned to the site with the backhoe loader and started digging for loot. They shattered underground tunnels and facilities and detached large building blocks.

Pieces of Hellenistic-Period basalt grindstones, once used to grind flour, were found in the debris.

Parks Authority inspectors and Border Police volunteers arrived in the scene shortly and caught the two suspects, who live in the nearby Arab village of Daburiyya.

The two suspects, brothers in their 30s, were brought to the Tiberias police station and later released on bail. The backhoe loader they had used was confiscated, and IAA is to ask for its forfeiture.

Nir Distfeld, an IAA northern sector inspector, was outraged over the event and said that, "brutal, illegal excavations cause horrible damage to archaeological sites, and irreversibly hurt the historical research that concerns everyone's history."

"This site, adjacent to Daburiyya, where the suspects came from, suffers repeat robbery attempts," he added. "Greed drives people crazy."

"The damage is heartbreaking, luckily they were arrested before a greater loss was caused. It is important to note that excavating an archaeological site is a felony punishable by up to five years incarceration," Distfeld stressed.