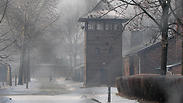 A 19-year-old Israeli who was caught last March urinating near the Auschwitz concentration camp's crematorium is ordered by a Polish court to pay a fine of $1,350 (5,000 zloty).

The young man, known as Zeev K., toured the camp together with a group of Israeli tourists from Israel when he was caught by the Polish tour guide urinating near the building of what used to be the concentration camp's crematorium.

The tour guide alerted the police who arrived at the scene and took the 19 year old for questioning—which lasted several hours.

Comment provided by Auschwitz said, "At the site of the former Auschwitz II-Birkenau site, a young person from Israel was indeed spotted urinating while standing on the monument that commemorates all victims of the camp.

"The monument is located between the ruins of the gas chambers and crematoria II and III. This extremely sad and disturbing incident was immediately noticed by our staff and other visitors. Our security intervened and police was called," stressed the statement.

In his interrogation, the Polish report said, he admitted to committing the act and said he would accept any punishment levied on him.

The Foreign Affairs Ministry added he was released and allowed to return to Israel.

However, the legal proceedings against the teenager continued and he was indicted in the nearby town of Oświęcim.

Polish law prohibits the desecration of monuments and historic memorial sites.