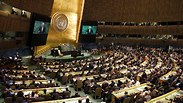 The United Nations
Photo: EPA
In a move deemed by Israel as a vote of confidence, the United Nations recently signed purchase agreements worth tens of millions of shekels with Israeli companies specializing in security and water services.

In light of the deteriorating security situation that has severely affected UN aid workers operating in dozens of locations in Africa—just last year 61 UN peacekeepers have been killed in the continent, the highest figure listed in the past in 25 years—the organization decided to launch an emergency tender in order to purchase defense systems for UN bases.




The organization has approached a number of companies from around the world that specialize in defense sensors that can detect precision-guided weapons such as missiles and mortars. Three out of the five companies contacted by the UN were Israeli.

Ultimately, the Israeli company MER was chosen. The UN recently signed an $8 million deal for the next three years, with the option of another five years.

Furthermore, the Israeli water treatment technology company Odis won a UN tender worth $42 million.

In addition to these purchase agreements, other deals were signed between UN institutions and Israeli companies over the past year.

In 2017, Israeli companies sold $52 million worth of products and services to the organization. As a result of the aforementioned transactions, this amount is expected to rise.

The companies were introduced to UN officials by the Israeli delegation to the United Nations, headed by Ambassador Danny Danon, who held various events in order to promote Israeli acquisition deals.

Since these events were successful, UN officials directly approached the representatives of Israeli companies and invited them to participate in various UN bids.

"Diplomacy offers many opportunities for the advancement of Israel and Israeli industry. I am proud of the Israeli companies joining forces with the United Nations to become an integral part of the organization's activities worldwide," Danon said.

"This is yet another achievement for Israel at the United Nations, which will bring tens of millions of shekels to the country, thereby opening up the local industry even further. This is also an opportunity for exposing Israeli businesses to potential acquisition deals with the organization," he concluded.