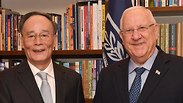 Rivlin and Qishan
Photo: Mark Nayman/GPO
China's vice president has met with Israeli and Palestinian officials as part of a three-day trip to the region.

Wang Qishan visited the West Bank on Tuesday, where he met Palestinian Prime Minister Rami Hamdallah, laid a wreath on the grave of late Palestinian leader Yasser Arafat and toured Bethlehem's Nativity Church.

Later, he met President Reuven Rivlin in Jerusalem. Rivlin said relations between the two countries were "excellent."

"The relations between China and Israel are excellent—based on mutual respect, a shared past and a promising future," said the president. He added that the good relations between the two people began as early as the 10th century CE with the Jewish community of Kaifeng.

Vice President Qishan thanked the president for his welcome and said, "The relations between the two countries are based on a long shared history, as you mentioned, and also on partnership in innovation."

"Israel does not have large natural resources, but the miracle of development rests on the tremendous human capital of this nation. Human beings are the most precious asset," Qishan stressed.

Wang's trip to Israel illustrates the warming ties between the two countries. They have become close trade partners, with China showing interest in Israeli developments in agriculture, water and other environmental technologies.

Wang, a confidant of President Xi Jinping, is one of the most senior Chinese officials to visit Israel since the countries established diplomatic relations in 1992.