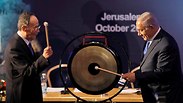 Prime Minister Benjamin Netanyahu and Chinese Vice President Wang Qishan
Photo: Reuters
PM: Innovation is 'key' to improving Arab world relations
Netanyahu, speaking during Israeli Innovation Summit attended by Chinese Vice President Wang Qishan, says developing technology might help solve Israeli-Palestinian conflict by 'opening the door to the Arab world'; In addition, four-year deal to increase cooperation in multiple fields was signed between Israel and China—Israel's second largest trade partner.
Prime Minister Benjamin Netanyahu stressed Thursday the importance of developing technology in improving the relations with the Arab world and solving the Israeli-Palestinian conflict during the second day of Israeli Innovation Summit,
attended by China's Vice President Wang Qishan
.
During the event, the prime minister addressed the political and geopolitical implications of Israel's technology and innovation.
"They always thought that if we solve the Palestinian problem, it would open the door to better relations with the Arab world, which is true, if it could be done. It is also true that if we open the door to the Arab world and normalize our relations with them, it will advance a solution to the Palestinian problem. We are doing just that. The key is innovation, and everyone understands that," Netanyahu emphasized.
Netanyahu said this against the backdrop of the tension on the Gaza Strip border, as well as the recent political storm in the Likud party over an alleged scheme to remove the prime minister from office.
Innovation and technology are not only "the key" to Israeli-Arab relations, as the prime minister said, but it is also the reason behind the tightening of the fast-growing relationship between Israel and China.
On Wednesday, Netanyahu and China's vice president kicked off the trade and innovation summit in Jerusalem. Netanyahu said that the Chinese government's choice to send Wang Qishan, a close confidant of President Xi Jinping, to co-chair this year's Israeli Innovation summit "reflects the growing ties between our countries, our economies, our peoples."
Qishan's visit is the first visit by a high-ranking Chinese leader since Chinese President Jiang Zemin's visit to Israel in 2000. The current Premier of the State Council of the People's Republic of China Li Keqiang, who is ranked as third in the Chinese leadership hierarchy, visited Israel three years ago—but an official of the same rank as vice president has not visited Israel in the past 18 years.
Vice President Qishan arrived in Israel with a large delegation of Chinese officials, including two ministers and 12 deputy ministers. On Tuesday, the vice president visited the Church of the Holy Sepulcher in Jerusalem and placed a note between the ancient stones of the Western Wall.
Qishan said that beyond a historic visit, this is a visit focused on recognizing the Jewish people and its values.
Qishan praised Israel as an innovation hub that China hopes to learn from as it modernizes its fast-growing economy.
"Israel leads the world in electronics, information technology, modern medicine, and agriculture," he said. "China is still striving to achieve modernization."
China has become Israel's second largest trading partner, trailing only the US Israel exported $2.8 billion to China in the first half of 2018, an 80 percent jump from the previous year. In the last two years, Israel and China have signed a breakthrough visa agreement, opened direct flights, and conducted hundreds of joint research projects.
At the summit, the two countries signed a four-year agreement to increase cooperation in various fields, including innovation, science, education, economics, trade, technology, health, environment, academia, Mashav (Israel's Agency for International Development Cooperation in the Ministry of Foreign Affairs) and agriculture.
"Our bilateral relations are at a new height," Qishan said in a speech at the summit's gala. "Our arms are wide open, for countries to innovate, to start businesses in China."
Netanyahu announced that the two countries will complete a free trade agreement next year, and that China plans to invest heavily in Israeli infrastructure, including new ports and a light rail.
"China and Israel are a perfect match," said Dale Aluf, the director of research for Sino-Israel Global Network & Academic Leadership, a think tank that promotes closer Israeli-Chinese relations. "China may be a huge market, but it has a lot of domestic problems—pollution, desertification, and an aging population. Israel has the technology to solve those problems."
Netanyahu also said he and Qishan pledged to create professional training programs in agriculture, entrepreneurship and public health, allowing Israeli tech companies to penetrate the Chinese market. He stressed that China has made breakthroughs in intellectual property protection, likely attempting to assuage start-ups concerned about the risks of working in China.
Qishan called piracy worries "groundless," saying that China "has been working tirelessly to strengthen international protections."
The leaders made no mention about Chinese trade policies that have created friction with the US and Europe. Major trade partners have accused China of discriminating against foreign companies and forcing them to hand over crucial technology.

Israeli defense experts also have expressed concerns that Chinese participation in massive national infrastructure projects may pose a security risk, given China's close relations with Israel's regional foes, such as Iran.
"We have to be cautious about the types of things we sell to China," said Aluf. "Defense technology is off the table. But we can sell health care and sustainable development so there's no reason for America to be upset," he said.
Qishan is one of the most senior Chinese officials to visit Israel since the countries established diplomatic relations in 1992. Credited with orchestrating China's anti-corruption purge and shoring up support for the Communist party, he is widely considered to be the most powerful vice president in China.
Netanyahu and Wang toured exhibits by high-tech Israeli startups focused on self-driving cars, health care and agriculture. They also attended an evening gala where former Google CEO Eric Schmidt spoke, touting Israel's innovative potential, and will open a new Israeli innovation center together Thursday.
Deputy Director General for Asia and the Pacific at the Ministry of Foreign Affairs Gilad Cohen, said that the Chinese want to invest in Israel and declared the state as the second strategic partner after Switzerland in the field of innovation.
"The Chinese come here and want to invest in high-tech. They received a message from our leadership: 'Go and do business in Israel. Invest in innovation.' We are also working on a free trade zone with China that will increase Israeli exports by hundreds of millions of dollars and will boost consumer goods," Cohen said, adding that the improved relations with China do not come at the expense of anyone else.