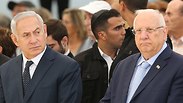 Netanyahu and Rivlin
Photo: Alex Kolomoisky
Netanyahu: From interrogations to delusions
Op-ed: As part of the prime minister's attempt to test waters before bill limiting President Rivlin's say in forming the government after elections is brought before the Knesset, he accuses president of collaborating with Gideon Sa'ar to stage a putsch against him.
Prime Minister Benjamin Netanyahu has decided not to announce early elections after it had come to his knowledge that President Reuven Rivlin is plotting with a former Likud official to prevent him from forming the government if he is reelected. According to hearsay, Rivlin is planning to task the former Likud official with forming a coalition.

After Rivlin advised Netanyahu to go through a psychiatric observation, Netanyahu focused on another of his old rivals, former interior minister Gideon Sa'ar, who also succeeds in causing paranoia at the prime minister's residence.

Sa'ar is portrayed as subversive, who wants to take Netanyahu down and prevent him from forming a government after the elections.

On the backdrop of Netanyahu's current state, the sense of persecution which he feeds himself and the public with, and the warm embrace he receives from the Likud party, it was only a matter of time before he turns against his domestic political rival.

Radio and TV programs hosted by pro-Netanyahu journalists recently implied the premier would follow this path.

The journalists added fuel to the fire, spreading the theory about cooperation between the "former official," and President Rivlin, in their joint attempt to stage a putsch within the Likud in order to oust its leader from power.

Even if it is true—and it is probably not—that Netanyahu received a heads up regarding Rivlin, it is evident that he is the one that made the connection between Rivlin and Sa'ar and turned it into a worldwide conspiracy.

The thought that Sa'ar, while not being a Likud member, is working hand in hand with the president to steal Netanyahu's position as the prime minister is so absurd there is need to say much more.

There was not even one Likud member who said—in public or in private—that he heard anything about Rivlin and Sa'ar's alleged joint plot.

Even Tourism Minister Yariv Levin, who is the closest man to Netanyahu, admitted on the radio he does not know anything about the matter.

However, by distributing his preposterous conspiracy theory, Netanyahu's intention was probably not only to harm Sa'ar.

It makes a lot more sense to assume this is a spin, an experiment that is meant to test the waters and prepare the ground before a bill limiting Rivlin's say and crucial power in forming the government will be brought before the Knesset.

What really matters is Netanyahu and his associates' attempt to change a Basic Law on the grounds of this delusion, which is probably the figment of the prime minister's imagination.

So instead of looking for traces of this conspiracy, we should better try to understand why it was so important for Netanyahu to make such serious accusations, and what he has achieved with all of this.

And the answer is Netanyahu's interrogations. It always comes down to the interrogations.

Knowing the investigations are concluded, and that the attorney general's decision will be submitted before the due date, has exacerbated the pressure at the prime minister's residence.

The intention to announce early elections, and by doing so, prompting the attorney general to give his decision as soon as possible, seems now less relevant.

The last thing Netanyahu wants is for the general attorney to announce his decision during elections time.

And this is how, within less than a day since Netanyahu's accusations were published, the conspiracy theory was born.