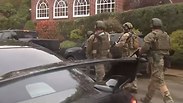 Scene of the shooting
Photo: Reuters
11 dead in shooting at Pittsburgh synagogue
Armed assailant yelled 'all Jews must die' before opening fire at Tree of Life Congregation synagogue in Pittsburgh, Pennsylvania, killing 11 people and wounding 6 others, including 4 police officers; the attacker, Robert Bowers, surrendered to police after being wounded in firefight with SWAT teams.
A gunman stormed a Pittsburgh synagogue during Saturday services and shot worshipers, killing 11 and wounding six others, including four police officers, before he was arrested. None of the dead were children.
The gunman, a bearded heavy-set white male, yelled "All Jews must die" before opening fire using an AR-15 rifle and two handguns. He killed worshipers on the ground and basement floor of the Tree of Life Congregation synagogue.
He then barricaded himself on the third floor of the building as police arrived at the scene. The gunman, as well as the four police officers, were wounded in the exchange of fire that ensued. Three of the police officers were shot and one was hurt by shrapnel.
The shooter, who was pinned down by SWAT teams, eventually surrended himself to the police, crawling to them due to his injuries.
Scene of the shooting
US attorney for western Pennsylvania Scott Brady told a news conference that charges could be filed later on Saturday against the suspected shooter, 46-year-old Robert Bowers from Pittsburgh.
"The actions of Robert Bowers represent the worst of humanity. We are dedicating the entire resources of my office to this federal hate crime investigation and prosecution," Brady said. "Please know that justice in this case will be swift and it will be severe."
Bob Jones, the special agent in charge of the FBI's office in Pittsburgh, said investigators Bowers was not known to law enforcement and that they believe he was acting alone. He said Bowers' full motive still isn't known.
Bowers was in a hospital in fair condition with multiple gunshot wounds. Patients at area hospitals included a 61-year-old woman, a 70-year-old man, and a 55-year-old officer. No children were killed, authorities said.
A social media post by Robert Bowers on Saturday said the Hebrew Immigrant Aid Society "likes to bring invaders in that kill our people. I can't sit by and watch my people get slaughtered. Screw your optics, I'm going in."
The Tree of Life synagogue is locted on the intersection of Wilkins and Shady avenues at the heavily Jewish populated Squirrel Hill neighborhood, some 10 minutes from downtown Pittsburgh. It describes itself on its website as a traditional, progressive and egalitarian congregation.
In 2010, Tree of Life Congregation—founded more than 150 years ago—merged with Or L'Simcha to form Tree of Life (asterisk) Or L'Simcha.
The synagogue is a fortress-like concrete building, its facade punctuated by rows of swirling, modernistic stained-glass windows illustrating the story of creation, the acceptance of God's law, the "life cycle" and "how human-beings should care for the earth and one another," according to its website. Among its treasures is a "Holocaust Torah," rescued from Czechoslovakia.
Its sanctuary can hold up to 1,250 guests.
Shooting investigated as a hate crime
"It's a very horrific crime scene, one of the worst that I've seen, and I've been on some plane crashes," Pittsburgh public safety director Wendell Hissrich told a news conference near the scene.
"This falls under hate crime," he said, adding there was no active threat to the community and that the shooter had been taken to a hospital. The Federal Bureau of Investigation will lead the probe into the attack.
Jeff Finkelstein of the Jewish Federation of Greater Pittsburgh told WPXI that organization's security officer has notified all JCC synagogues and that they are on modified lockdown.
Finkelstein said local synagogues have done "lots of training on things like active shooters, and we've looked at hardening facilities as much as possible."
"This should not be happening, period," he told reporters at the scene. "This should not be happening in a synagogue."
Michael Eisenberg, former president of the synagogue, told KDKA that police were normally only present at the synagogue for security on the High Holy Days.
"On a day like today, the door is open, it's a religious service, you can walk in and out," he said.
Around the time of the shooting, three congregations would be using the building, Eisenberg said. The Tree of Life congregation would have about 40 people present, another group meeting for Shabbat services in the basement would have 30 to 40 people and a third Jewish congregation meeting for a study session would have about 15 people. A common atrium area would be busy with people milling around, he added.
Most of the congregants were older people, according to a former rabbi interviewed by local media.
Eisenberg, who lives about a block from the building, was getting ready for services when he received a phone call from a member who works with Pittsburgh's Emergency Services, saying he had been notified through scanner and other communications that there was an active shooter at their synagogue.
"I ran out of the house without changing and I saw the street blocked with police cars. It was a surreal scene. And someone yelled, 'Get out of here.' I realized it was a police officer along the side of the house. ... I am sure I know all of the people, all of the fatalities. I am just waiting to see," Eisenberg said.
He said officials at the synagogue had not gotten any threats that he knew of prior to the shooting. The synagogue maintenance employees had recently checked all of the emergency exits and doors to make sure they were cleared and working.
"I spoke to a maintenance person who was in the building and heard the shots. He was able to escape through one of the side exit doors we had made sure was functioning," Eisenberg said.
Trump: Shooting has little to do with gun laws
US President Donald Trump told reporters that the shooting had little to do with gun laws and that if there had been protection inside the temple the results would have been different.
The shooting shows that the United States should stiffen laws on the death penalty, Trump told reporters at Andrews Air Force Base before getting on Air Force One on his way to Indianapolis.
Trump commenting on the shooting (צילום: רויטרס)
"I think one thing we should do is we would stiffen up our laws with guns with the death penalty," Trump said. "When people do this they should get the death penalty."
Trump called the shooting "far more devastating than anyone thought," saying "it's a terrible thing what's going on with hate in our country."
In later comments at the airport in Indianapolis, Trump said the incident "looks definitely like it's an anti-Semitic crime," adding it was "a horrible, horrible thing."
He said the FBI is now involved, noting the crime scene is one of the worst many professionals have seen.
The president's daughter, Ivanka Trump, wrote on her Twitter page that "America is stronger than the acts of a depraved bigot and anti-Semite. All good Americans stand with the Jewish people to oppose acts of terror & share the horror, disgust & outrage over the massacre in Pittsburgh. We must unite against hatred & evil. God bless those affected."
Pennsylvania Gov. Tom Wolf called the shooting an "absolute tragedy."
"We must all pray and hope for no more loss of life," Wolf said. "But we have been saying 'this one is too many' for far too long. Dangerous weapons are putting our citizens in harm's way."
The Pittsburgh Steelers and the Pittsburgh Penguins said in separate statements on their Twitter pages that their "thoughts and prayers" are with all those affected by the shooting.
Deadly anti-Semitism
World Jewish Congress President Ronald S. Lauder called the shooting "an attack not just on the Jewish community, but on America as a whole."
Jonathan Greenblatt, CEO of the Anti-Defamation League, said, "This is likely the deadliest attack on the Jewish community in the history of the United States."
On April 13, 2014, a pair of shootings occurred at a Jewish Community Center and a Jewish retirement community, both located in Overland Park, Kansas. A total of three people were killed in the shootings.
French President Emmanuel Macron said, "I want to express our sadness and support to the American people."
France is home to western Europe's biggest Jewish population and many in the 400,000-strong community have complained for years of a rise in anti-Semitic hate crimes.
In 2015, vandals desecrated 250 tombstones in a Jewish cemetery in eastern France days after four Jews were killed in an attack on a kosher grocery in Paris.
In the United States that year, a white supremacist murdered nine African Americans during a prayer service in Charleston, South Carolina.
In 2012, a neo-Nazi gunman with white supremacist ties walked into a Sikh gurdwara - or house of worship - in Oak Creek, Wisconsin, and murdered six Sikh Americans.
Itamar Eichner contributed to this report.