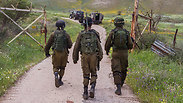 IDF soldiers, file photo
Photo: Ido Erez
Jaffa Military Court charged an IDF combat soldier from the Home Front with aggravated assault on Monday, after a Military Police investigation revealed that the soldier kicked and punched a Palestinian detainee who was bound with his eyes covered at a military post in the West Bank.

The incident took place in May at the Shaked outpost in Samaria when the detained Palestinian was brought in along with two other Palestinian detainees to the base's detention cell.


According to the indictment, at one point, the soldier entered the cell and mocked the three Palestinian prisoners: "When did you last shower?" when did you last put water on your body?" he taunted them.

One man replied that he did not understand what he was saying. Later, the soldier returned to the room after allegedly hearing the prisoners cursing him in Arabic.

The investigation of the Military Police Investigation Unit (MPCID) revealed that the defendant repeatedly beat the Palestinian detainee with his fists and kicked him several times; causing bleeding and injuries to his head and back.

While he was hitting the Palestinian, the soldier cursed his victim and only when another soldier intervened did he stop and left the cell. He was also charged with inappropriate conduct.

"Hurting detainees is a serious matter that is not taken lightly. The IDF is working on discipline and adherence to rules in this matter," The IDF Spokesperson's Unit said in a statement.