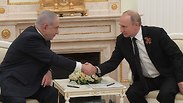 Prime Minister Netanyahu and Russian President Putin meet in Moscow
Photo: Amos Ben Gershom/GPO
Netanyahu may cancel trip to Paris after no meeting with Putin set
Prime Minister Netanyahu hoped to meet with Russian President Putin at a conference marking 100 years to the end of World War I, but as Moscow appears to be avoiding setting such a meeting and the French barred sideline meetings, the PMO is reconsidering the trip.
Prime Minister Benjamin Netanyahu may cancel his trip to Paris, where he planned to meet with Russian President Vladimir Putin, after the French asked world leaders not to hold meetings on the sidelines of the conference marking 100 years to the end of World War I.

The prime minister is scheduled to leave for France on Saturday to attend the conference, which will host over 100 leaders from around the world.

Netanyahu wanted to meet with Putin on the sidelines of the conference, but such a meeting has yet to be scheduled, despite talks between National Security Advisor Meir Ben-Shabbat and his Russian counterpart Nikolai Patrushev.

The Russians recently said Putin only had a meeting set with US President Donald Trump and might hold other meetings with other leaders, including Netanyahu.

Officials in Jerusalem got the impression Moscow is trying to stonewall attempts to schedule a meeting as Israel has yet to agree to Russian demand for a shorter notice ahead of a possible IAF strike in Syria. The IDF is wary of such a move over fears the information about the planned strike could leak to the Iranians and Syrians.

Israeli officials said the prime minister normally has about 10 such sideline meetings at conferences with leaders, and because the French barred such meetings and the busy schedule of the conference won't allow such meetings anyway, the Prime Minister's Office is considering cancelling the trip.