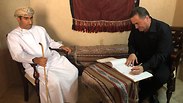 Transportation, Intelligence, and Atomic Energy Minister Yisrael Katz in Oman
Transportation and Intelligence Minister Yisrael Katz received Tuesday a very warm welcome upon his arrival in Oman, and joined his hosts in a traditional sword dance to the sounds of local folk music.

Katz toured the Nizwa Fort—one of UNESCO's world heritage sites. The city of Nizwa used to be the capital of the sultanate in the Persian Gulf.

Katz presented before several Arab ministers his "Tracks for Regional Peace" plan—a railway that will connect the Mediterranean and the Persian Gulf through Israel and Jordan.

"I was moved to receive such a warm welcome in Oman as an Israeli minister, and take part in Oman's traditional sword dance. This is a sign of Israel's growing strength."

Video: Minister Katz joins Omani hosts in traditional sword dance

In October, Prime Minister Benjamin Netanyahu paid a secret visit to Oman, the first of its kind in more than 20 years.

Meanwhile, US Middle East envoy Jason Greenblatt addressed Katz's visit on Tuesday, tweeting, "Minister of Transportation and Intelligence Israel Katz is attending an international transport event in Oman. He will present a plan to build a railway connecting Israel, Jordan, Saudi Arabia and the Persian Gulf. Let's continue the dialogue. These efforts support our own."