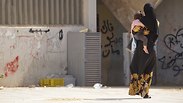 A woman and her child walk in Rahat
Photo: Victor Cabrera
Bedouin women in Israel strive to end illegal polygamy
Roughly 20% of Bedouin families are polygamous. For years, women's spirits were being crushed and nobody in Israel paid attention, but now things are expected to change as authorities issue 15 indictments against alleged offenders. 'I didn't know what a boy was and suddenly I had two of my own,' says woman who entered a polygamous marriage at 14.
After decades of being accused of turning a blind eye, Israeli authorities are finally beginning to crack down on polygamy in Bedouin society and to this end have issued 15 indictments against alleged offenders.
Though the practice was criminalized in Israel in 1977 and is punishable by up to five years in prison, it has continued mostly unabated in Bedouin communities. One Arab-Israeli parliamentarian—Talab Abu Arar (Joint List)—has made no secret of being married to two women at the same time.
"It's been difficult to enforce the law because we're talking about a traditional society, which for decades has carried on with their daily lives without (outside intervention)," Justice Ministry Director-General Emi Palmor, who headed a committee that published an extensive report on the matter, explained to The Media Line.
"The issue with polygamy is that it borders on a religious custom, so how can we get involved? I think the state avoided dealing with this because it felt that it would be treading on very intimate grounds. However, in the end, in the past few years we've come to the realization that we must enforce the law."
More than 250,000 Bedouins—a sect of tribal nomadic Muslim-Arabs—reside in Israel, with the majority concentrated in Rahat and villages across the southern Negev Desert. While it is difficult to determine exactly how widespread polygamy is since not all Bedouin marriages are logged in official databases, recent Israeli government figures estimate that roughly 20 percent of all Bedouin families are polygamous.
In January 2017, a ministerial committee headed by Palmor was tasked with upholding Israel's anti-polygamy law and providing help to those negatively affected. This past July, the commission published a 315-page report recommending tougher law enforcement, but also advocated for allowing Sharia Courts—based on Islamic law—to continue registering polygamous unions under limited circumstances. Civil marriages are not conducted in Israel and, as such, Sharia Courts are responsible for overseeing Muslim marriages and divorces.
Although nobody in Israel has thus far been convicted of polygamy, Palmor expects that to change. Nevertheless, she noted that criminal prosecution is only one aspect of a wider approach by Jerusalem to address the issue.
"The government's recommendations pertain to education, employment, treatment, welfare and health," Palmor elaborated. "The perception is that we have to not only prosecute people but also to educate them, encourage (higher) women's employment rates and also set up frameworks for childcare to allow women to work and thus become empowered."
Last month, Justice Minister Ayelet Shaked convened the ministerial committee and ordered the implementation of its recommendations. At the meeting, it was revealed that hundreds of related police reports have already been filed and that men involved in polygamous marriages will be barred from working in the civil service and education system.
Despite Palmor's report calling for exemptions under certain conditions, the committee emphasized that there should be no exceptions to the rule and that Sharia Courts must comply.
The push to eradicate polygamy follows efforts by many Bedouin activists who have spoken out against the controversial practice, like Insaf Abu Shareb, one of the community's first female attorneys.
"I began addressing the issue after I saw how harmful polygamy was to women, children and our society as a whole. I could see how women's spirits were being crushed and nobody paid attention, as if Bedouin women were outside of the public discourse," she told The Media Line.
Abu Shareb has for years lobbied Israeli lawmakers to implement stricter policies with regards to the phenomenon, although she argues that prosecuting those who break the law is not the ultimate goal.
"You can't solve this problem only with enforcement. Even though it's an important aspect, punishment is one side of things and has to be undertaken correctly," Shareb stressed.
Married at fourteen
Juliette Bader was only 14 years old when she was whisked away from her home in the Gaza Strip to Rahat, a Bedouin city in southern Israel. There, she became a man's second wife and, in the ensuing years, gave birth to two sons. But the marriage was an unhappy one.
"I was always cooking and with the kids at home," Bader recalled to The Media Line. "I didn't have the option of going out to study. From being a girl, I (immediately) became a mother and it was very hard. I didn't know what a boy was, and suddenly I had two of my own," she said.
Less than three years after her wedding, Bader decided to divorce her husband. Eventually she remarried, this time to a single man, but her childhood experience has marked her forever.
"There are only two reasons a woman would agree to her husband marrying a second woman: either she doesn't love him, or she wants to get rid of him because he's driving her crazy. There is no woman who wants to see her husband with another woman," she contended.
Now 38 and the mother of seven children, Bader runs a visitor center in Rahat, conducts guided tours of the city, and gives cooking workshops. She is one of a growing chorus of women living in Bedouin communities to speak out against polygamy.
What does Islam say?
Though polygamy pre-dates Islam, it is sanctioned in the Quran. In fact, under certain circumstances men are permitted to marry up to four women.
"The Quran lays out conditions for polygamy," Mohamad Alkuran, an imam from a mosque in the Bedouin town of Kuseife, explained to The Media Line. "For instance, when there is a war and many men are killed, lots of orphans are left. In this context, when there are fewer men (in the overall population), a man is allowed to take a second wife," he explained.
According to Alkuran, one of the stipulations in Islamic scripture is that a man with multiple spouses must be "equal and fair" with all of them, or else suffer divine retribution.
"Unfortunately, the majority of men who today have several wives in truth set a very negative example.The man sometimes becomes a victim of this practice, if not him then his first wife, if not her then the second wife, if not her then it is the children who suffer from his decision," Alkuran conceded.
Polygamy: an opportunity for independence?
Some Bedouin women argue that polygamy is not inherently harmful and allows divorcees, widows or older women to find companionship or even gain independence. For Ehlam Abu Jafar, a social activist and entrepreneur in Rahat, being a second wife enabled her to receive an education and pursue a career.
"In the beginning, my family was very much against the idea of getting married to someone who already had a wife, but it was my choice," Abu Jafar related to The Media Line.
"I feel as though I'm different from others in the community because I live in peace. You can't tell the difference between my kids and (the first wife's kids). We eat together, we go out together. They live next door and come over freely. We live a normal life," she continued.
Abu Jafar, who at the age of 35 began studying and eventually graduated with an undergraduate degree, works in Rahat's burgeoning tourism industry.
"We divide things this way: one day my husband is here, the next he's with the other wife. If today he's here with me, he eats dinner, sleeps, goes to work the next morning and comes back to his second family, but he stills sees all the children," , Abu Jafar revealed.
Despite the mostly-positive experience, she does not want her daughters to follow in her footsteps."It's very difficult and I don't recommend it at all," she said.
Abu Jafar may be an exception to the rule because, as Abu Shareb and others point out, women in polygamous marriages often suffer from domestic violence, sexual assault or depression. For these reasons, many argue that the Israeli government must put a total stop to the practice.
"A lot of women don't have any other choice," Yarona Richardson, an expert on Bedouin social and economic development who works in the Negev Development Authority, told The Media Line. "If they're too old or if they want to have a child, there's no such thing as children outside of marriage in Bedouin society. (A Bedouin woman) can't go to a sperm bank so there's no alternative.
"My biggest criticism is towards the (Israeli) government. Although they say they are against polygamy, and although we're in a democratic country and it's actually illegal—they still haven't found a way to really (demonstrate) zero tolerance towards it," she asserted.
Article written by Maya Margit
Reprinted with permission from The Media Line