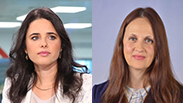 Shaked and Zilber
Photo: Yaron Brener, Justice Department
Shaked demands dismissal of deputy AG over criticism of bill
Justice Minister Shaked demands Attorney General Mandelblit to fire his deputy Dina Zilber after she criticized the loyalty in culture bill proposal at a Knesset committee discussion; stressing he won't allow outside interference in the managing of his department, the AG decided to halt Zilber's appearances in the Knesset or government until he can clarify the matter with her.
Justice Minister Ayelet Shaked has demanded the dismissal of Attorney General Avichai Mandelblit's deputy Dina Zilber over her criticism of the loyalty in culture bill.

The loyalty in culture bill, which was proposed by Culture Minister Miri Regev, seeks to grant the Culture and Sports Ministry the authority to deny state funding to cultural institutions that "undermine" the state's values and symbols.

During a discussion at the Knesset's Education, Culture and Sports Committee on Tuesday morning, Zilber pointed out the legal difficulties such an amendment would pose. "The legislation grants sweeping powers, including tthe denial of funding, while creating an effect of self-censorship," she cautioned.

"Culture is free imagination, beauty, the plurality of voices, courage, defiance, honesty—an expression that doesn't pander or adjusts itself to pass governmental compliance tests," Zilber continued.

"Times are changing. These are not simple days, and they bring with them not just new laws, but also new words: Governance, loyalty, override. (This is) contrarian discourse, which is wounding and scarring our social fabric. It marks and labels—who is with us and who is against us. And if there's one who is loyal, is there another who betrays? A fifth column? 'Give us obedient AGs, emasculated artists, curbed media—a disciplined and educated people whose thinking is uniform,'" Zilber charged.

In response to Zilber's comments, Justice Minister Shaked announced on Tuesday evening that she expects the deputy AG to immediately tend her resignation.

"Starting today, Mrs. Dina Zilber no longer represents my positions, the positions of my ministry, or the positions of the government in government discussions, at one of its committees or at one of the Knesset's committies," Shaked informed Mandelblit. "She is no longer permitted to appear in front of the government or the Knesset as a representative of the ministry."

"Zilber has made a series of extremist and defiant statements against members of Knesset and government ministers," Shaked accused. "It is clear from Zilber's repeat actions that she does not wish to act in accordance with the Civil Service Regulations, the instructions of the attorney general, or any other basic rule of good governance that should be obvious even without having to be put in writing. It is clear she does not wish to act as a legal advisor in a professional and honest manner."

Shaked further claimed that if Zilber wishes to arrive in the Knesset and express political views, she must do so by running for political office.

Backing Shaked, her Bayit Yehudi party leader Naftali Bennett praised "this incredibly important move by Justice Minister Shaked and Bayit Yehudi. The advisors' job is to advise, judges' job is to judge, and the government's job is to govern. Over time, things got confused. This is another significant move by Bayit Yehudi to restore sanity and balance."

While agreeing to Shaked's demand not to have Zilber represent government positions for the time being, Attorney General Mandelblit said he decided not to suspend or punish her.

Speaking during an emergency meeting of his department, Mandelblit said he will seek clarifications from Zilber over her appearances at Knesset committees over the past two weeks in which she presented her positions on ethical issues without consulting with him first.

"Anyone going to a discussion on my behalf should represent my legal position," he said, adding however that he "will not tolerate any outside interference in the running of this department."

Shaked doubled down on her demand to dismiss Zilber on Thursday. "To issue a manifesto against the government on a variety of unrelated issues is not a legal position, it's a political one," Shaked told Ynet.

"Legal advice must be done professionally. Political legal advice undermines the public service. The public needs to believe that the public service promotes the government's agenda and not an independent one," she explained.

Alexandra Lukash contributed to this story.