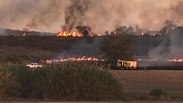 A Palestinian, who infiltrated Friday afternoon into Israel from northern Gaza, is suspected of setting alight a greenhouse in moshav Netiv HaAsara in Hof Ashkelon Regional Council.

At first, the IDF said the flames erupted as a result of an illuminating bomb the army fired while searching for the Palestinian. However, after a preliminary investigation, it was concluded the infiltrator is apparently the one responsible for the arson.

Greenhouse set alight in Hof Ashkelon Regional Council (צילום: רועי עידן)

Firefighting teams were called to the scene, and the Palestinian was apprehended and taken for questioning. No casualties were reported.

The incident occurred on the backdrop of negotiations talks between Israel and Hamas, and a $15 million Qatari cash infusion paid out to Palestinian civil servants in the strip, offering the terror organization a potential domestic reprieve though Israel said the money would not go to it.

According to Palestinian sources, the Qatari payout was the first of a total of $90 million that would come into Gaza over the next six months with Israeli approval.

Qatari Ambassador Mohammed Al-Emadi said that the gas-rich Gulf Arab state would continue transferring a $ 15 million payment per month during the next six months for Hamas officials' salaries and for underprivileged families in Gaza.

Emadi added that $ 10 million will be transferred to provide the strip with fuel supply.

"We've reached an agreement with Israel regarding the electricity problem in Gaza and the naval route," the Qatari envoy said.

Emadi did not elaborate on the agreement with Israel, stating, "The UN is not involved in the Qatari grant, which is fully supervised by the Qatari committee.

On Friday afternoon, as Emadi's convoy departed from Gaza, some youths threw stones that smashed a window on his bodyguards' car, suggesting not all Palestinian protesters were pleased with Qatar's intervention. Al-Emadi's car was unscathed.

Meanwhile, A 28-year-old Palestinian, who was critically wounded by IDF fire during riots along the Gaza border, succumbed to his wounds.