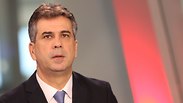 Minister of the Economy and Industry Eli Cohen
Photo: Avi Moalem
Minister of the Economy and Industry Eli Cohen received an invitation last week to participate at the Startup Nations Ministerial conference held in Gulf nation of Bahrain.

Senior government officials from all over the world are due to attend the event in an effort to find a new policy tools that would increase joint technological initiatives between different countries.

Cohen's expected trip follows a number of visits made by high-profile Israeli politicians to the Gulf states in recent weeks, including Prime Minister Benjamin Netanyahu's historic visit to Oman and Culture Minister Miri Regev's trip to Abu Dhabi to attend the Judo Grand Competition.

The annual conference is an initiative of the World Bank and the Global Entrepreneurship Network, and will be held for the fifth year in a row, having already been hosted by the cities of Milan, Istanbul, Johannesburg and Medellin in previous years.

During the conference, various ministers from around the world are expected to discuss ways to accelerate the creation of jobs and increase economic growth by encouraging entrepreneurship.

The purpose of the event this year is to explore how governments can prepare for integration of technology within existing regulatory frameworks.

Bahrain is a Middle Eastern country located between Iran and Saudi Arabia, and although the country has a Shiite majority, it is controlled by a Sunni regime. It has a population of 1.4 million people—around 50 percent of whom are foreign workers—and is ruled by King Hamad bin Isa Al Khalifa and Prime Minister Prince Khalifa bin Salman Al Khalifa.

In 2005, after Bahrain signed a trade agreement with the United States, the country announced it will no longer participate in the Arab boycott of Israel.

In 2007, Foreign Minister Khalid bin Ahmed Al Khalifa claimed that Tzipi Livni, who was his Israeli counterpart at the time, had offered to establish diplomatic relations between the two countries but "the initiative was put on hold."