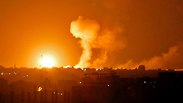 Fire exchanges in Gaza
Photo: AFP
Palestinian report: 6 Hamas members killed in IAF strike in Gaza
Hamas's military wing brigade commander killed and 7 wounded during an Israeli Air Force (IAF) airstrike in southern Gaza on Sunday, according to Palestinian sources; IDF confirms fire exchanges developed during a military activity in the strip.
Six Hamas members, among them the east Khan Yunis brigade commander, were killed and seven were wounded during an Israeli Air Force (IAF) strike in southern Gaza on Sunday, according to Palestinian sources.

Hamas's military wing said in an official a statement, "a special IDF force penetrated into Gaza at three kilometers depth with a civil vehicle near the Isma'il Abu Shanab mosque, east of Khan Yunis.

"The force killed Nour el-Deen Baraka, Hamas's military wing brigade commander. After the IDF force was revealed, the IAF aircraft began firing to allow the soldiers to withdraw, which led to fatalities on the our side," Hamas's statement read.

"The incident is ongoing, and our forces are operating against the Zionist dangerous aggression," the statement concluded.

The IDF Spokesperson's Unit asserted no IDF soldiers were abducted during the incident.

Meanwhile, Gaza border communities' residents were instructed to remain close to bomb shelters.

Some of the residents said loud explosion noises were heard, and that "the house walls were shaking." Shortly thereafter, two Code Red Sirens were sounded in the Eshkol Regional Council, apparently due to several rockets exploding in open spaces, with the Iron Dome system being activated.

Following the fire exchanges, landing paths were altered at Ben Gurion Airport, and it was announced school would be canceled on Monday in the Gaza border communities.

Defense Minister Avigdor Lieberman concluded a situation assessment at 11 pm at the Kirya headquarters with the attendance of Chief of Staff Gadi Eisenkot, the Shin Bet Director Nadav Argaman and additional senior officials of the defense establishment.

Prime Minister Benjamin Netanyahu, who is currently in Paris, is holding a security consultation and is in constant contact with the defense establishment heads. The premier will cut his trip short due to the security situation in southern Israel.

Hamas issued a statement, saying, "We welcome the brave resistance that is facing the cowardly Israeli attack. The resistance's activity is an act of heroism, which emphasizes it is alert, prepared, and is carrying out its national duty by defending our nation and forces the enemy to pay for its crimes."