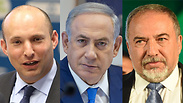 Bennett, Netanyahu and Lieberman
Photos: Yair Sagi, Emil Salman, Gil Yohanan
Will Netanyahu call snap elections?
Analysis: While the prime minister has no interest in giving Lieberman what he wants—early elections in which he'll use the political capital he got from resigning to gain power—he also doesn't want to capitulate to Bennett's ultimatum—the defense portfolio or the government falls. It appears Netanyahu has no choice.
Prime Minister Benjamin Netanyahu doesn't want to give Avigdor Lieberman, who resigned his post as defense minister on Wednesday, what he wants—early elections. But it appears he might not have a choice, as the alternative appears to be giving Education Minister Naftali Bennett the defense portfolio, something Netanyahu is far less inclined to do.

Senior coalition officials said Wednesday the prime minister is unlikely to capitulate to Bennett's ultimatum—the Defense Ministry or the abrupt end of the 34th government. This means Netanyahu might have no choice but to call snap elections within 90 days from the decision to disperse the Knesset, somewhere between the end of February and the beginning of March 2019.

The defense minister's dramatic resignation announcement caught Netanyahu in Sde Boker in the Negev, at the midst of a memorial ceremony for Israel's first prime minister, David Ben-Gurion. Netanyahu was speaking at the ceremony, but his head was preoccupied with the political turmoil and the entanglement created by Lieberman, who decided to resign and take his Yisrael Beytenu party out of the coalition. He would've probably loved some good advice from Ben-Gurion, who had his fair share of intrigues and political crises.

Likud officials initially thought Lieberman's resignation would immediately lead to snap elections. After the tumultuous term of this government, it is no longer feasible to rely on a one-vote majority in the Knesset.

"Netanyahu can't rely on a majority of 61 MKs, when he has MKs in his party like Oren Hazan," a senior Likud official said.

The Likud officials' assumption was also based on the fact over the past few months Netanyahu had been considering calling early elections anyway.

But as soon as Lieberman's decision to resign was announced, Netanyahu was quick to declare he had no interest in calling early elections, and that he wanted to maintain the stability of the government and the coalition even in its current makeup. The prime minister is trying to erode the political capital Lieberman could gain from resigning—a move the former defense minister would present to voters as his insistence on assertive right-wing policy against Hamas in the face of Netanyahu's conciliatory move, agreeing not to fight in return for another ceasefire, which no one knows how long it would last.

"There is no need to go to an election during what is a sensitive period for national security," said a Likud official with close ties to the prime minister. "This government can see out its days."

"Netanyahu can't call the early elections Lieberman has forced upon him," the Likud official explained. "The negotiations with Hamas and the ceasefire agreement will be on the political agenda during the campaign, and Netanyahu has lost public opinion points following the recent security incidents in the south. Netanyahu doesn't want to call early elections over Gaza."

On Wednesday evening, Netanyahu launched into consultations with senior Likud officials and the heads of the coalition parties in an effort "to stabilize the coalition." He spoke on the phone to his senior ministers and told them he had no intention of calling snap elections over Lieberman's resignation.

"Netanyahu gave us the impression nothing happened despite Lieberman's resignation, that we needed to keep going," said one coalition member.

Another senior coalition official said that "Netanyahu doesn't want to give Lieberman credit for bringing down the government and bringing the elections forward. There's one man who sets the agenda, and his name is Benjamin Netanyahu."

But while the prime minister is working to preserve the current government, there is another significant obstacle: the fate of the defense portfolio. Everything can fall apart if Netanyahu refuses to give Education Minister Naftali Bennett the defense portfolio and the latter makes good on his ultimatum and quits the government.

Minister Bennett told political officials the current government has no right to exist if a change is not made to restore Israel's deterrence. "A government that has no deterrence is not a right-wing government. And a government that isn't right wing has no right to exist, and it would be better to call elections," Bennett was quoted as saying.

Even before Lieberman officially announced his resignation, officials in Bennett's Bayit Yehudi party rushed to declare they would demand the defense portfolio for their party leader in return for remaining in the coalition. MK Shuli Mualem-Rafaeli threatened: "If we don't get the defense portfolio for Bennett, we will quit the coalition." Bennett's close associates claimed that the Bayit Yehudi chairman already had to give up the defense portfolio once despite having explicit commitment from Netanyahu that he would get it.

Netanyahu himself was asked by senior Likud and coalition officials whether he planned on giving Bennett the defense portfolio, but he's been dodging the question. In private conversations, however, the prime minister said he was not impressed by Bennett's threats. "Bennett's making threats? Let him make threats to bring down a right-wing government," Netanyahu apparently said.