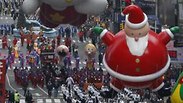 Macy's Thanksgiving Parade
Millions gather on the streets of Manhattan every November in the cold weather to see Macy's Thanksgiving Parade, and millions more watch it on TV. On December 3, the first night of Hanukkah, a parade inspired by the New York celebration is coming to Jerusalem for the first time as show of unity between Israel's Jews and Jews in the Diaspora.

The parade in Jerusalem is an initiative of the Diaspora Affairs Ministry and is meant to bring Jews in Israel and abroad together in the wake of recent grave anti-Semitic incidents around the world, culminating in the recent Pittsburgh Synagogue massacre that claimed the lives of 11 people. The ministry is looking into bringing a delegation from the Pittsburgh Jewish community to the parade in Jerusalem.

"Together—Walking with World Jewry" is the name chosen for the parade, which will feature street orchestras, youth movements, giant displays from Midburn Festival artists (the Israeli version of Burning Man), a convoy of classic cars, players from the Hapoel Jerusalem basketball team, and more. Musicical performances will include rappers Nechi Nech and Matisyahu.

Of course, massive balloon displays, the likes of which delight spectators in the US, will also be on show, including characters from comic books and children's movies, like Spider-Man, Kung Fu Panda, Anna and Elsa from "Frozen," Mickey Mouse and Donald Duck, Pokemons, and others.

The marchers will be accompanying the massive floats carrying the displays. The Sultan's Pool venue will host various events, including an exhibition about world Jewry, created in cooperation with Beit Hatfutsot-the Museum of the Jewish People.

The Jewish-American rapper Matisyahu, who will preform at Sultan's Pool, has a long relationship with Israel and with the city of Jerusalem. Several years ago, he had to contend with BDS activists trying to have his show in Spain cancelled. He ended up performing in front of a crowd carrying Palestinian flags, and sang "Im Eshkachech Yerushalayim" ("If I Forget Thee, Jerusalem"), a Jewish liturgical poem.

The parade is planned to be one of the biggest and most impressive events that the capital has known. It will go through several central Jerusalem streets and will end at the Sultan's Pool.

A previous version of this story erroneously stated the event in Jerusalem would be associated with the Macy's Thanksgiving Parade. The story has been amended to indicate the event will be inspired by Macy's Thanksgiving Parade, but will not be organized by Macy's.