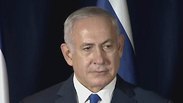 Prime Minister Benjamin Netanyahu
Photo: GPO
Netanyahu now holds 3 most senior posts in government
Following Defense Minister Lieberman's resignation, Netanyahu takes defense portfolio in addition to being the prime minister and foreign affairs minister; he is considering giving up the Foreign Affairs Ministry and keeping the Defense Ministry.
Prime Minister Benjamin Netanyahu is currently holding the three most senior positions in the government—prime minister, foreign affairs minister and now the defense minister as well, following Avigdor Lieberman's resignation on Wednesday over the ceasefire agreement reached with Hamas.

Likud party officials believe Netanyahu will give up one of the posts.

Netanyahu, meanwhile, is considering appointing a temporary foreign affairs minister while keeping the defense portfolio to himself.

The prominent candidates for the foreign affairs minister position are Transportation Minister Yisrael Katz, Public Security Minister Gilad Erdan, and Minister of National Infrastructure, Energy and Water Resources Yuval Steinitz—all from the ruling Likud party.

Netanyahu could also accept the Bayit Yehudi party's demand and appoint Education Minister Naftali Bennett as the next defense minister.