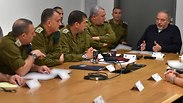 Lieberman meeting with senior IDF officers
Photo: Defense Ministry
Defense Minister Avigdor Lieberman's resignation on Wednesday should not be viewed as a cynical political maneuver intended to improve his status in the polls, but rather the outcome of a protracted process, culminating in the recent flare-up in the Gaza Strip.

The State of Israel and the IDF lost an excellent defense minister who, despite not having a rich security background, helped strengthen of the defense establishment more than certain defense ministers who served as IDF chiefs.

-

Suffice it to point out three examples:

A. The defense minister decided, contrary to the opinion of senior defense officials, to establish the "missile corps," thereby significantly multiplying the IDF's firepower capabilities (in this matter it is interesting to note that Amir Peretz, who also never served as chief of staff, oversaw the development of the Iron Dome missile defense system, contrary to the opinion of the then-IDF chief).

B. The process of selecting the IDF's next chief of staff, Aviv Kochavi, was a professional one, devoid of politics. Lieberman did a comprehensive job interviewing dozens of officers and examined the advantages and disadvantages of the candidates, in contrast to the political position of the prime minister, all while showing respect to the other candidates.

It is also worth noting that, contrary to the selection of previous IDF chiefs—some of whom were the default option—no one came out, at least openly, against the appointment of Kochavi.

C. On proposed legislation dealing with the capital punishment to convicted terrorists: in contrast to the zigzagging of politicians who ostensibly support the death penalty but refrain from promoting legislation on the matter, at times even hindering the process, the outgoing defense minister was consistent all along on this matter.

In addition to these achievements, the defense minister made sure to preserve the honor of the chief of staff and of all those serving in the IDF, even when their positions differed from his own, and he did not hesitate to confront a bereaved father who recorded and leaked a telephone conversation between him and a lieutenant colonel.

The State of Israel owes a great debt to Avigdor Lieberman, whose words matched his beliefs. We hope in the near future to see an end to the government's weak position with regards to Hamas, stemming not from the IDF's inability, but rather from the confounding political considerations of the prime minister.

Ilan Katz was the Deputy Chief Military Advocate.