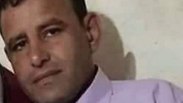 Arab man to be buried in Jewish cemetery amid Muslim boycott
Ala'a Qarash, who was killed in a car accident on Highway 90, was denied burial at Muslim cemeteries over suspicions he sold property to Jews in the capital; Jerusalem's chief rabbi orders to bury him at special plot for those without religious faith at Har HaMenuchot.
Jerusalem's Ashkenazi Chief Rabbi Aryeh Stern has approved the burial of a Muslim man inside a Jewish cemetery after Muslim cemeteries refused to bury him over suspicions he sold a property in the capital to Jews a few years ago.

Ala'a Qarash was one of six people killed in a collision between a truck and a minibus on Highway 90 two weeks ago.

The Palestinians accused Qarash of being a "traitor" for allegedly selling property in Jerusalem to Jews, and Jerusalem's mufti, Ekrima Sa'id Sabri, determined Qarash did not deserve a proper burial at a Muslim site.

The Jerusalem mufti based his ruling on a 1935 ruling by Haj Amin al-Husseini, the leader of the Arabs in Mandatory Palestine, known for his anti-Semitism and rejection of Zionism. At the time, Husseini ruled that "anyone who sells a house or land to Jews will not receive Muslim burial."

Sabri noted in his ruling that "anyone who sells (property) to Jews in Jerusalem's Old City is no longer part of the Islamic faith, we will not accept his repentance, and he will not be buried in a Muslim cemetery."

After the accident, the bodies of the Arab casualties were brought to the Al-Aqsa Mosque on the Temple Mount for a special prayer, but the Waqf refused to allow Qarash's body into the mosque. For the same reason, many other mosques in east Jerusalem refused to hold Qarash's funeral service.

The cemetery in which his family members are interred also refused to bury Qarash, and his family even decided against setting up a mourners' tent. He has since been temporarily buried outside the cemetery in Nabi Salih.

When Rabbi Stern learned of the obstacles and humiliation Qarash's family had suffered, he issued an unusual ruling ordering to bury Qarash at a special plot at the Har HaMenuchot cemetery in Jerusalem for those without religious faith.

"Since the Muslims themselves are unwilling to bury him, we must do something and right this wrong done to a man disgraced simply for his willingness to sell land to Jews," the rabbi explained.

"We must give very positive treatment to righteous gentiles, and in this case this is someone who showed good will and was even willing to take a risk for the Jewish settlement," the rabbi further wrote.

"We will do everything to bring Ala'a Qarash to a proper burial, and we will not allow disrespect of a man, be him Arab or Jewish," Baruch Yadid, the head of the Palestinian desk of the right-wing Im Tirtzu NGO, told Ynet. "The freedom of expression, the freedom of property and the freedom of religion have all been hurt in this unfortunate case, and we must right this wrong."