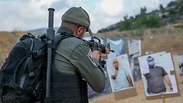 19-year-old T. during IDF basic training
Photo: Ohad Zwigenberg
Arab teenager who joined IDF says 'it's a privilege'
19 year old from Jerusalem area, where clashes with police is an everyday occurence, decided to join the Border Police and this week will complete his basic training. Only close friends and his mother know about the teenager's decision as his family might be harmed if it became public knowledge.
T., a 19-year-old from the Jerusalem area, where clashes with police is a regular occurence, decided four months ago in an unprecedented move to join the Border Police. On Wednesday he is expected to participate in a graduation ceremony from basic training where he will receive a combat pin.

Although the teenager says it's "a privilege to serve my country," his family, especially his mother is less enthusiastic. She has an excuse prepared for anyone asking about his whereabouts. "She tells everyone that I study at university," T. explained laughingly.

Due to fears that his enlistment will be uncovered, the logistics of returning home on weekends are complex. "I leave the base wearing the uniform and change to civilian clothes at the central bus station. Then, a friend of mine picks me up and drops me off at the house," he said, adding, "I'm not afraid for myself, but rather for my family."

T. was born in northern Israel and when he was 4 years old, his parents moved to an area near Jerusalem. Since he is an only child, his mother had to sign and approve his service in a combat unit.

Arab IDF soldier during basic training (צילום: משה מזרחי)

When his father died of cancer eight years ago, T. became the sole breadwinner of the family. "My mother works a bit and also receives payments from the National Insurance Institute. I used to work as a waiter and at various hotels.

At the age of 12, he knew he wanted to join the Border Police. "I thought about the place where I could contribute to the state and also move ahead in life, and the Border Police is the best place to do that, as far as I'm concerned."

T. says that his close friends and his mother were well informed about the enlistment to IDF, but he is not allowed to tell his neighbors. The 19 year old says he is aware that serving in the Border Police might lead him to the area where he lives in order to carry out operational activities there.

"During a terror attack or any other events… I'll take part in the fighting wherever I'm required, but I would prefer not to be positioned to the area where I live," he stated.

Following T.'s decision to enlist, three of his close friends decided to follow his footsteps, even though they are not obligated to serve.

"After basic training I want to serve in the Border Police's Judea and Samaria District—where the all the action is," T. says regarding his future plans.

"I'm proud to serve the country and it's a privilege to protect it. This is my country just as much as of anyone else who lives here," the soldier concluded.