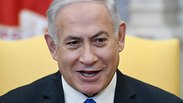 A legend developed here in Israel over the past decade about an invincible hero. One who destroys his opponents with a wave of his hand. One who repeatedly takes the performance, dismissing his opponents as one would flick a speck of dust of his jacket. The legendary hero's name is Benjamin Netanyahu and his opponents change at a rapid pace making it difficult to keep track of them.

This folk legend became a bestseller after the 2015 elections, when in the race — which was close and even slightly tilted in favor of Isaac Herzog — Netanyahu managed to bring about a revolution and win in a landslide victory with 30 seats for the Likud.

That was the moment in which he earned the title of the unbeatable God in the eyes of his constituents and of his fellow party members; the one who is irreplaceable.

But a brief look at the facts tells a different story, one with no gods and no superheroes. These facts prove that Netanyahu is definitely vulnerable, and every time he faces a fitting opponent, he loses the election.

In 1999 he was defeated by Ehud Barak. In the 2001 elections he was out of the game, but in the 2003 elections he tried to return, ran against Ariel Sharon in the Likud and lost big time. In 2006 Netanyahu lost to Olmert (who headed Kadima), and in 2009 he lost to Tzipi Livni at the polls, but managed to become prime minister thanks to brilliant political maneuvering.

Not Superman and not a superhero. Netanyahu is vulnerable and can lose under the condition that he faces a formidable opponent.

The great tragedy of the center-left camp in recent years is not Netanyahu, but the fact that they themselves believe in the legend of his invincibility. How else can one explain their defeatism? How can one rationalize the fact that no one with a real chance of defeating Netanyahu stands at the head the camp?

And that is how we find ourselves with a two-headed center-left camp: Avi Gabbay, who apparently cannot even explain to himself how he got there, and Yair Lapid, who remains etched in the national memory as a television presenter and less as someone who can lead the country.

These two men (and also Tzipi Livni, the only one who still reminds us the meaning of a fighting opposition) now have responsibility for the fate of the next election results. The arsenal of names is known: Benny Gantz, Ehud Barak, Gabi Ashkenazi, Moshe Ya'alon and others. No one individual can make the change alone, but a combination of all these personalities together can bring back the revolution of 1999.

No one can argue against such a list saying that there is no "security figure" or that it is a party of the "Ashkenazi tribe." Gantz, according to the polls, is gnawing at the Likud; Ashkenazi, despite the time that passed since he removed his uniform, remains a very popular figure, mainly because of his tenure as IDF chief of staff, but also because of his image as a rugged Golani Brigade soldier.

Even if we assume that Gabbay will be persuaded to vacate his place, the question mark remains regarding Lapid. One of his close associates recently said that he would not give up on leading a potential center-left coalition, even at the risk missing an opportunity to change the government. If that will be the case, Lapid will continue to play a two-sided game of winking to the right and losing votes on the left. That is not how you win elections; that is how the ego prevails.

If the elections take place this March, they will almost certainly revolve around the security issue. Netanyahu will appear weakened in the face of his voters, who are incensed by his weak response to Hamas aggression (in my personal opinion, a responsible response).

Gabbay and Lapid will not be perceived as capable of providing a security solution. Therefore, it is appropriate and expected that they will do everything possible to provide such a solution, even if it contradicts their belief that they were born destined for leadership.

If they do not, the legend of the superhero will write another chapter of triumph, and history will remember what lead to it.