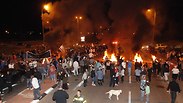 Protests in Sderot
Photo: Gadi Kabalo
The rage that I witnessed in the Sderot protests on Tuesday smelled different, and it wasn't the thick smoke from the burning tires, that a few teenagers burned in the middle of the road. This wasn't a spontaneous blowing off of steam, after another round of fighting, sirens, direct hits and explosions.

Yossi Geldati, a long-time Sderot resident, said that the photos of Gazans giving away sweets in the streets in joy of victory drove people crazy. He told me I have to speak to his friend Aryeh Hen, who voted Likud all his life and declared, after last week's ceasefire agreement, that's he's done with them forever. Aryeh told me that he intends to punish the Likud in the next elections, and that "He wouldn't recommend them going to elections now, since the south is highly disappointed in them."

This may not be a revolution, but it does signify a new wind. In Sderot right-wing voters protested against the prime minister, of the Likud party, who heads a right-wing government. In the 2015 elections, the Likud took Sderot effortlessly, with 42.85 percent of the votes. The second largest party here came in way behind, with 11.84% of the vote. That was Avigdor Lieberman's Yisrael Beytenu. All other parties settled for scraps.

Before my visit to Sderot I went through Ashkelon, to see the building that took a direct hit. There, too, resident were complaining about Netanyahu, that he is responsible for Hamas "beating us." Like in Sderot, Ashkelonians also voted for the Likud, which garnered 39.88% of the votes. The Likud won big in all southern cities, including Netivot and Ofakim, whoseresidents ran in and out of shelters throughout last week.

It won't be a stretch to say that the votes the Likud got in the south had nothing to do with loyalty in culture, or with a belief that the party will be the best one to handle social-economic gaps. People voted Likud because they see Netanyahu as Mr. Security. The prime minister cultivates a persona as the one who, unlike any other leader in the country, can handle Israel's security issues, namely Hamas and Gaza. And here, he and his right-wing government are leading a defense agenda similar to a failing football team, that lives from game to game, fight to fight, with no inspiring tactics.

At the Sderot rally last week, one could hear for the first time thoughts of heresy, questioning a man who everyone used to think had no replacement. Thoughts saying that, if that's all he has to offer, perhaps it's time to get some new players out in the field. Shrouded in black smoke from burning tires, Aryeh Hen put it best: "This is Mr. Security? Every voter that he's sure he's got, is now disappointed in him."

This is a bad start for the Likud and Netanyahu's election campaign. There's no date for the elections yet, and time will tell if Netanyahu is able to recover his image in the eyes of his voters in the remaining few months.