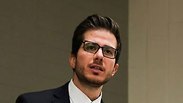 George Deek—the new Israeli ambassador in Azerbaijan
Foreign Ministry appoints first Arab Christian diplomat as ambassador
George Deek, an Arab Christian diplomat who has been working in the Foreign Ministry for over a decade, was made Israel's ambassador to Azerbaijan; he is considered a gifted legal expert and a popular lecturer; his speech in Oslo was crowned as 'the best speech by an Israeli diplomat.'
For the first time, an Arab Christian diplomat has been appointed as an Israeli ambassador. Attorney George Deek, an Arab Christian diplomat with years of experience is the new Israeli ambassador to Azerbaijan.
The newly appointed ambassador was born to a Christian Arab family in Jaffa, and is the only Christian in the Foreign Ministry.
He served as deputy ambassador to Nigeria as well as the deputy ambassador to Norway, both for a period of three years.
In 2014, during Operation Protective Edge, Deek served as the temporary director of the Embassy in Oslo. As the head of the Israeli delegation and as the sole Israeli envoy in the country, he organized and managed a successful state visit by former president Shimon Peres, a visit for which he received many accolades, including the ministry's outstanding employee award for that year.
George Deek's speech in Oslo
Deek received a bachelor's degree in Government and Law from the Interdisciplinary Center Herzliya, and won the prestigious Fulbright scholarship to attend Georgetown University, where he completed his graduate studies in International Law with honors.
The young ambassador has been practicing law since 2007, and served as an attorney at the Foreign Ministry's International Law Department for a year.
At a speech he held in Oslo, he told the story of his family and spoke about Israel's contribution to democracy, tolerance and stability in the Middle East. A video of his speech soon became viral and was even dubbed by some as "the best speech held by an Israeli diplomat."
The new ambassador is a popular and sought-after lecturer among pro-Israel organizations such as the American Israel Public Affairs Committee (AIPAC), StandWithUs and others.
"George Deek is a talented Israeli diplomat who has passed the diplomatic training process with flying colors, and even served at the Israeli embassies in Abuja and Oslo. He is a gifted advocate and a popular lecturer. We are proud of his appointment, which symbolizes the integration of Israeli diplomats from various backgrounds in the Ministry of Foreign Affairs," said Foreign Ministry spokesman Emmanuel Nahshon.