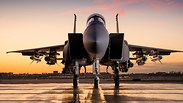 The new F-15 IA was chosen by the IDF and Israel Air Force (IAF) as the new fighter jet to be acquired over the next decade, according to an official announcement Saturday.

The purchase has already been approved by the government, and the first of the aircraft is expected to arrive in Israel as soon as 2023. In the meantime, the IAF will continue purchasing stealth attack aircrafts.

The F-15 IA performance, considered to be superior to the older F-15 aircraft—which has been in IAF use since 1998—is what swayed the decision.

Indeed, the new F-15 can fly longer distances, has higher survivability, more advanced avionic systems, and a much better ordnance-carrying capacity. The jet can carry up to 13 tons of explosives—a capability unmatched by any other attack aircraft.

In the field of air-to-air warfare, the F-15 IA plane is capable of carrying 11 missiles, in addition to 28 heavy, smart bombs for ground targets.

In addition, the aircraft has the capability to carry all the weapons at the IAF's disposal, including unique Israeli-made missiles, laser and electro-optical systems, and more.

The plane was built by Boeing for the air forces of Qatar and Saudi Arabia, and initially the United States Air Force (USAF), through which the IAF purchased the planes, pressed Israel not to request to purchase the jets.

This is because the Americans had an interest in continuing the development of the stealth F-35 line, which have been acquired by the US military's air and naval forces.

In the past year the USAF has begun to take an interest in the new F-15 IA plane, which gave Israel the green light to enter negotiations for its purchase. It seems as though the Americans have agreed to supply Israel with the new plane on condition that it will continue purchasing the F-35 stealth attack aircrafts.

The IAF emphasized that the new F-15 will not completely replace the F-35 stealth fighter, but is intended to reinforce the systems currently in place to enhance the range of capabilities to an optimal position vis-à-vis its missions—from Iran to Gaza.

According to a document presented by the IDF to outgoing Defense Minister Avigdor Lieberman recently, the IAF intends to complete the purchase of the third stealth squadron at a lower rate—with up to three planes a year. Once the third squadron is complete, approximately in 10 years time, the IAF will have at least 75 F-35 stealth aircraft at its disposal.

The document submitted to Lieberman is one of the last to be approved by the outgoing defense minister. All the IDF's purchases in the US in the coming decade, totaling $38 billion, have been submitted for governmental approval.